iCloud Drive is Loading, How to Fix
Some users have reported that iCloud Drive is stuck on loading and never actually loads. More specifically, users have said that they see an "iCloud Drive is loading…" error message when they want to browse their iCloud Drive content in the Files app, as you can see in the screenshot below: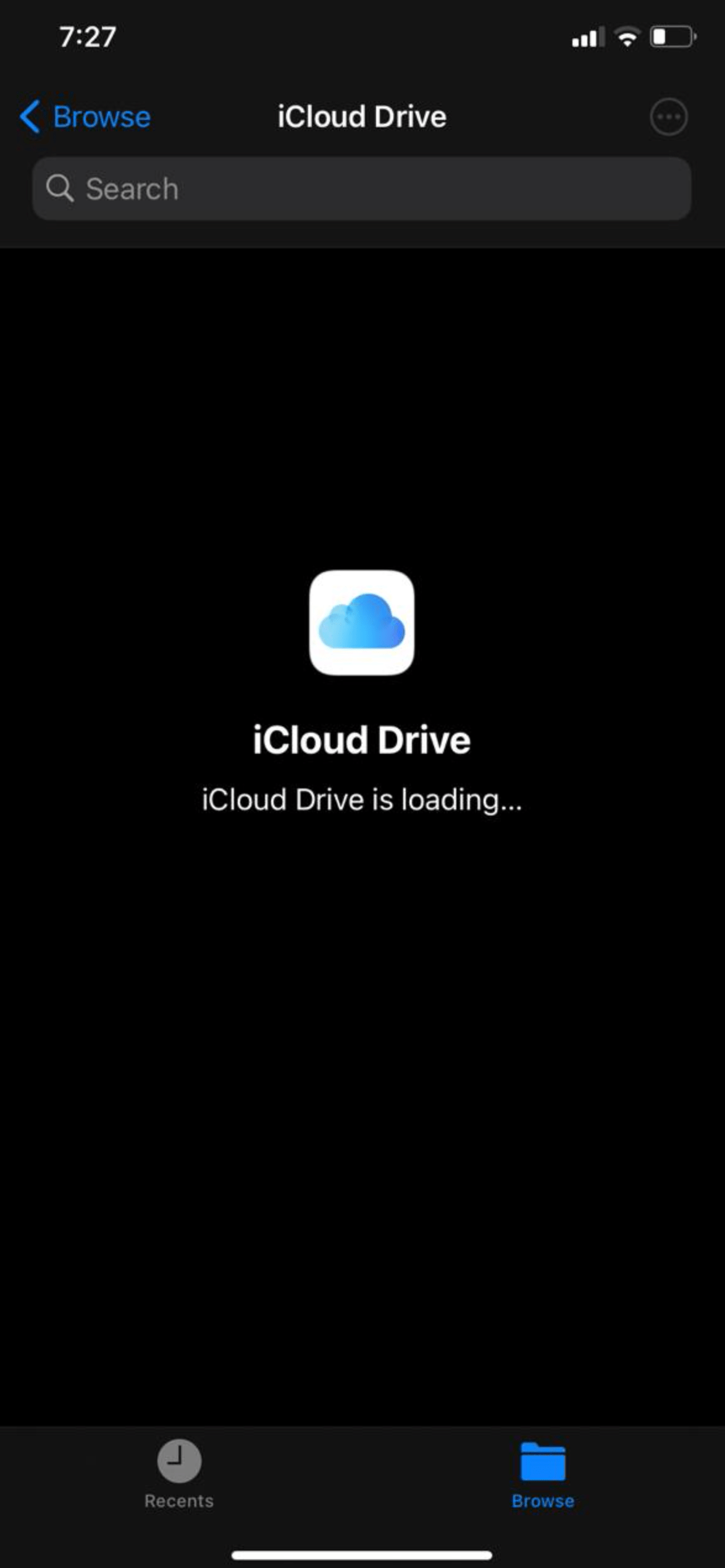 You may run into this iCloud Drive error when you want to back up app content, save or sync something to iCloud Drive. Your device may tell you to turn on iCloud Drive even though it is enabled. And when you try to navigate within the Files app, you may see also an error message saying, "couldn't communicate with a helper application."
You can store, access and sync your content (files and folders, including Pages, Keynote or Numbers documents) across all of your devices. This problem causes users not to be able to view or edit their files using iCloud Drive. This issue may occur on an iPhone or iPad. In this article, I explain what you can do to fix this problem.
Basic troubleshooting steps
Ensure that your device has the newest version of iOS or iPadOS. Go to Settings > General > Software Update to check if there is an update.
Make sure that you have enough iCloud storage available. You can upgrade your storage if needed. You can also free up storage by deleting content.
Make sure that your device has a Wi-Fi connection or a cellular-data connection. Test your connection by opening Safari and trying to load a website.
If you are having this issue while you are using cellular, ensure that iCloud Drive is allowed to access Cellular Data. Go to Settings > Cellular or Mobile Data. Scroll all the way down and ensure that iCloud Drive is turned on.
If you are using a VPN service, disable it. A VPN may interfere with the iCloud Drive connection.
Make sure that there is not an outage affecting iCloud Drive services. This can be easily checked by going to the Apple System Status page. Go to this page and check to see if iCloud Drive is working or not. If it is working, you will see a green dot next to it. If it is not working, you will see a notification describing the problem.
Ensure that you have enabled Set Automatically in Date & Time by going to Settings > General.
Restart your iPhone or iPad.
Turn off and on iCloud Drive
If you are still having this problem, let's try to turn off and on iCloud Drive. But please do these next steps in order:
Turn off iCloud Drive. Go to Settings > [your name] > iCloud and toggle off iCloud Drive.
Now restart your iPhone or iPad.
Now, again go to Settings > [your name] > iCloud and turn on iCloud Drive.
If you still have this problem after trying the steps above, you may want to contact Apple for more help.
Related articles