Mac App Store Displays Blank White Screen
Several users have said that the Mac App Store does not load and displays a white blank screen. This article explains what you can do if the Mac App Store loads an empty screen. It appears that especially earlier versions of macOS suffer from this problem.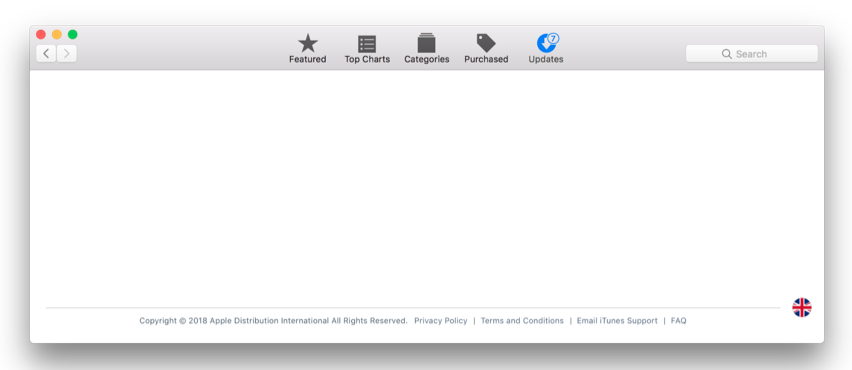 On your Mac, the best way to get apps and games is through the Mac App Store. If you're having trouble launching it, then you may not be able to download, install, or update apps.
Related articles:
Try the steps below to fix this problem.
1. System Status
The first thing you may want to do to check the System Status page. It is possible that the Mac App Store is down. You can easily check this by going to the Apple System Status page (direct link).
If this page is showing outages for the Mac App Store, there is little you can do. Just wait for Apple to fix it.
If everything is green, then continue to follow the steps below.
2. Internet connection
Make sure that you have a strong Internet connection. A slow network might cause issues with your Apple Store downloads. Simply open Safari (or any other browser) and then enter an address, such as macreports.com, in the URL bar and hit enter. If you cannot load the site, that may mean that you have issues connecting to the Internet. Please see the following articles to troubleshoot your Internet problem:
If your Internet speed is significantly slower, then you may want to contact your Internet service provider.
3. Restart your Mac
Simply restart your Mac. Then try to open the App Store again. Before restarting, sign out and then sign in. Here is how:
Open the App Store on your Mac and go to Store (toolbar menu) and Sign Out.
Then restart. You can restart your Mac by selecting Restart from the Apple menu.
Now sign in again. And test your problem now.
4. Update your Mac
Updating your Mac may fix your blank screen problem. After updating to the latest version of macOS, try to open the App Store again. Here is how you can update:
macOS Mojave or later: Choose System Preferences from the Apple menu and then click Software Update. This will check for updates and if there is an update available, follow the onscreen instructions.
Earlier macOS versions: For this, you will need to open the App Store on your Mac and click Updates. And of course, if you may not see the updates since the Update tab may be blank.
5. Safe Mode
If you are still having this problem, start your Mac in Safe Mode. Safe Mode clear chases and repair disks. Here is how:
Turn off your Mac.
Turn on your Mac and immediately press and hold the Shift key.
Release the Shift key when you see the login screen and then login.
In the login screen, it will say Safe Boot in the upper-right corner of the window.
Now in Safe Mode, open the App Store, is it still blank? Now, restart your Mac normally. Just turn off and on (do not press the Shift key). And then test the App Store again.
6. Reset NVRAM
Reset NVRAM or PRAM on your Mac. Doing so will wipe out some of your settings such as Display, Sound, or time zone. You will need to go to System Preferences and adjust your settings. Here is how:
Turn off your Mac.
Locate these four keys, do not press: Command (⌘), Option, P, and R.
Turn on your Mac and immediately press and hold these keys.
Keep holding them for 20 seconds and then release them.
When your Mac restarts, test your problem again.
See this article if you are experiencing the blank App Store problem on your iPhone or iPad.