macOS Monterey: iMovie Not Working, How to Fix
Some users are experiencing iMovie issues after upgrading their computer to macOS Monterey. Some problems include:
Unable to open iMovie.
Unable to open or play projects.
iMovie keeps showing "spinning beach ball loading" messages.
Unable to save or export files.
iMovie lags, freezes and runs very slowly.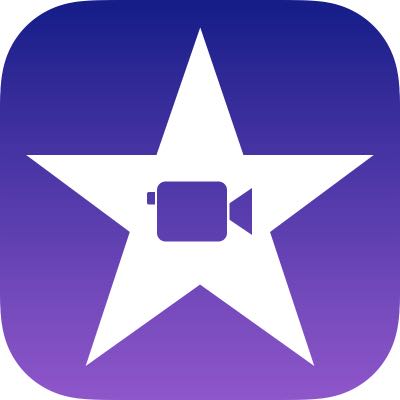 It seems that these problems started to occur only after upgrading to this version of the Apple operating system, macOS Monterey. iMovie is a popular video editing app. This article lists steps that you can consider to fix this issue if you are also experiencing this issue.
You may want to back your Mac with Time Machine before going further.
1. Restart
Let's try this first. Simply restart your Mac and then open iMovie on your Mac to see if this issue still occurs. You can restart your Mac by going to the Apple Menu > Restart.
2. Update
Ensure that you are running the newest version of iMovie. If not, update iMovie on your Mac. Here is how you can check for updates and update if there is an update.
On your Mac, click the Apple menu.
Select App Store.
Click Updates.
If there are updates, you can click Update All. Or you can only update iMovie by clicking the Update button.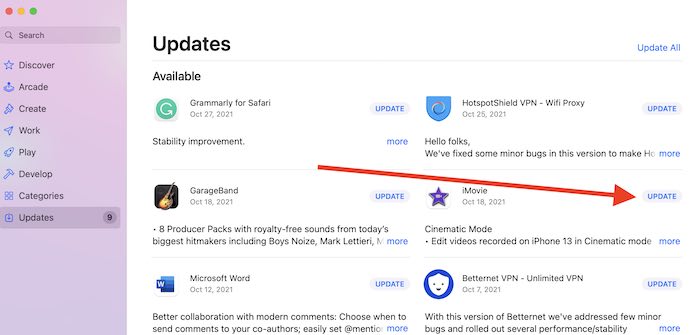 Furthermore, ensure that your Mac is up to date. Because there may be new Monterey updates. Simply go to System Preferences > Software Update.
3. Reset NVRAM or PRAM
Resetting NVRAM or PRAM may fix your iMovie problem. Follow these steps:
Turn off your Mac (Apple menu > Shut Down).
Disconnect all external devices, except your keyboard and mouse, connected to the Mac.
Now, open iMovie and test your issue. If iMovie is working now, meaning if the problem no longer occurs , connect your external devices one at a time until you figure out if a certain device is causing this problem. If iMovie is not working, see the next step.
4. Reset iMovie preferences
This will reset your preferences to default settings. This will not delete your libraries. Here is how you can do this:
Quit iMovie (iMovie > Quit iMovie).
Press and hold the Option and Command keys while you open iMovie.
A popup will appear saying "do you want to delete the preferences?" Click "Delete Preferences".

5. Delete and reinstall iMovie
If you are still having this iMovie problem, delete and reinstall the iMovie app. This will not affect your libraries. Here is how:
Delete iMovie: Open Launchpad, find iMovie in Launchpad (you can use the search field), press and hold the Option key and then click Delete button next to iMovie. A popup will appear saying "are you sure you want to delete the application "iMovie". Click Delete.
Then restart your Mac.
And reinstall iMovie. Open the App Store app on your Mac. Find iMovie and then download and install.
Open iMovie to see if it is working now.
See also: