Mail Cannot Save Information About Your Mailboxes Because There Isn't Enough Space In Your Home Folder
Several users have said that they could not open Mail on their Mac devices. Furthermore, when they attempt to open the Mail app, they receive the following error message:
Mail cannot save information about your mailboxes because there isn't enough space in your home folder. Quit Mail and delete any files you don't need. Then open Mail again.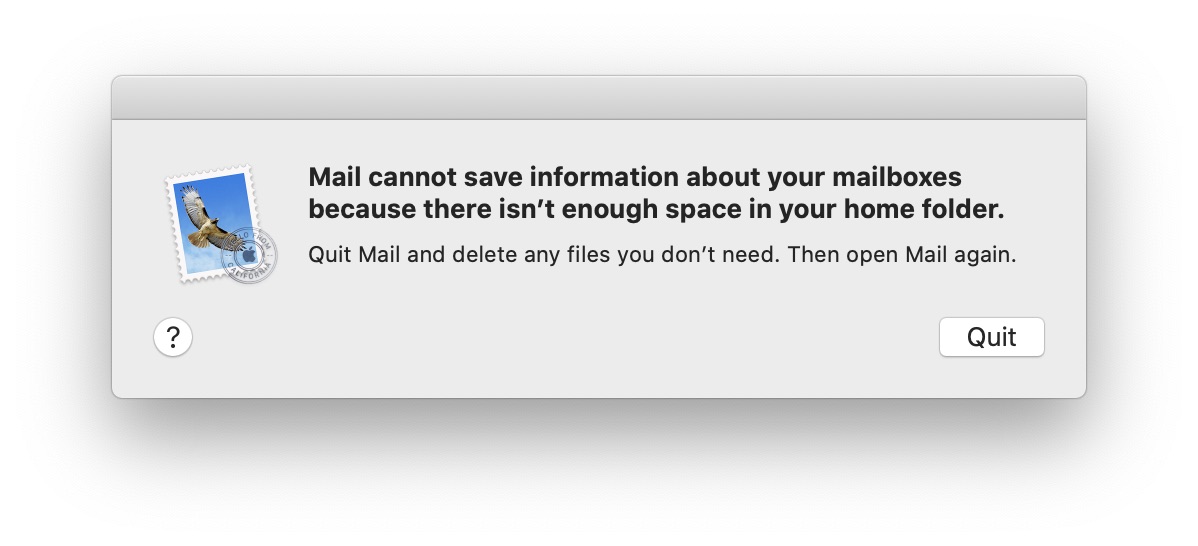 This is an important problem that you need to fix. Unless you fix this, you will not be able to check your mails. This problem will further prevent you from sending or receiving emails on your Mac. If you are having this problem, this article will help you fix it.
See this article if Mail opens itself randomly.
Before you try anything, make sure that your Mac is up to date. Here is how you can check if there is an update:
If your current macOS version is macOS Mojave or later: Click System Preferences > Software Update. This will check if there is an update. If there is an update, click Update.
If your current macOS version is High Sierra, Sierra, El Capitan or earlier, then open the App Store app on your Mac and then click Updates.
Please try each step until your issue is fixed:
1. Use Connection Doctor in Mail to check your internet connection. Here is how:
Open Mail
Window > Connection Doctor and review the information there. 
It should say "connection and login to server succeeded."
If you see error messages in the details column, try to fix the problem by following the instructions in the details column.
See also: Mac Catalina Wi-Fi Problems, Fix
2. If you are still having this problem, try to rebuild your Mail database. Here is how:
3. Restart your Mac in Safe Mode. Here is how:
Turn off your Mac.
Turn on your Mac and immediately press and hold the Shift key.
Keep holding the Shift key until you see the login screen. Release it when you see the login screen.
Log in (you may have to log in a few times).
Now your Mac is in Safe Mode.
In Safe Mode, try to open Mail.
Now exit Safe Mode, to do that restart your Mac normally without pressing any key.
Now again try to open the Mail app.
4. Nothing above helped you? Now let's try to reset Mail settings. This may fix your issue if your preference files are corrupted. Important: You will need to reenter all your email settings after performing these steps. Here is how:
Quit the Mail app.
Go to Finder and click Go and Go to Folder (or press the Command, Shift, G keys together).
Enter the following and click Go:
~/Library/Containers/com.apple.mail/Data/Library/Preferences
Now look for the file "com.apple.mail.plist" in the folder.
Drag the file to your desktop.
Restart your Mac.
Open the Mail app.
Alternatively, you can do this via the Terminal app (Applications > Utilities) as well. You can use Spotlight to open Terminal. Here is how:
Open Terminal.
Enter the following command and hit enter:
killall Mail &> /dev/null; mv ~/Library/Containers/com.apple.mail/Data/Library/Preferences/com.apple.mail.plist ~/Desktop && open -a Mail
See also: How To Turn Off Split Screen In Mail