Private Relay Unavailable on iPhone, iPad or Mac
You may have seen a message pop up on your iPhone, iPad or Mac about Private Relay being unavailable.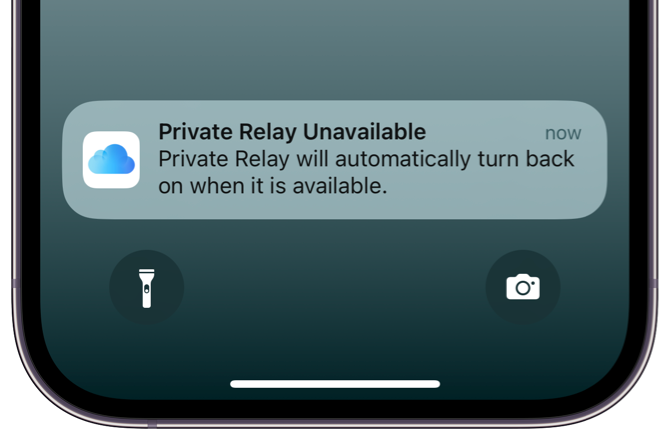 You may be wondering some of the following:
What is Private Relay?
Why is Private Relay unavailable?
Is it a problem? Do I need to do something?
In this article, we will answer your questions regarding Private Relay and why it is sometimes not available.
What is Private Relay?
Private Relay is designed to help protect your privacy while you are browsing the web. It is important to know that Private Relay is available to iCloud+ subscribers (if you pay for iCloud storage, this is you) and only works to protect browsing in Safari.
What does Private Relay do?
Private Relay hides information like your DNS records (the websites you visit) and your IP address (your location). This info could be collected and used to create a profile of you which includes your location and web browsing history.
Private Relay helps by splitting up the information:
Apple (first relay) and your ISP (internet provider) can see your IP address, but the DNS records are encrypted and can't be viewed by either.
Then a second relay generates a temporary IP address for you and decrypts the DNS records so you can be connected to the website you requested. The website won't know your IP address.
Why is Private Relay unavailable?
There are different reasons Private Relay may not be available.
Private Relay is not available in all countries or regions
If you are in an area where Private Relay is not available, you won't be able to use it until you return to an area where it is available. This is primarily due to governments not allowing the Private Relay service. Some of these countries are Belarus, China, Columbia, Egypt, Kazakhstan, Saudi Arabia, South Africa, Turkmenistan, Uganda and the Philippines.
The Private Relay service may be down
Like all services, it could be down. To check, you can go to Apple's System Status page and look at iCloud Private Relay. If you see a green dot, like the one in the screenshot below, the Private Relay service is not down – but it sometimes takes time before a down service shows up as such on the System Status page.
You are using VPN or internet filtering
This one produces a message that indicates that your system settings prevent Private Relay from working. Usually, this means a VPN is installed. If this is the case, you can either use the VPN or Private Relay, but not both.
Is it a problem? Do I need to do something?
Your browsing won't have the additional privacy feature, that's all. If you worry about your privacy and find Private Relay isn't working for you, you could use a VPN instead.
If Private Relay is unavailable, there is really nothing you can do until it is available again. When it becomes available, you should get a message saying it is active.
Related articles