Significant Locations on iPhone – Definition, How to View, Delete or Disable
Apple may try to offer you personalized services to give you a better experience with your device. One of the lesser-known features on iPhone is called Significant Locations. In the background, Significant Locations collects data on where you have been to learn about your location habits. In this article, I will provide an overview of this feature and how you can view your Significant Locations and delete them or disable the feature.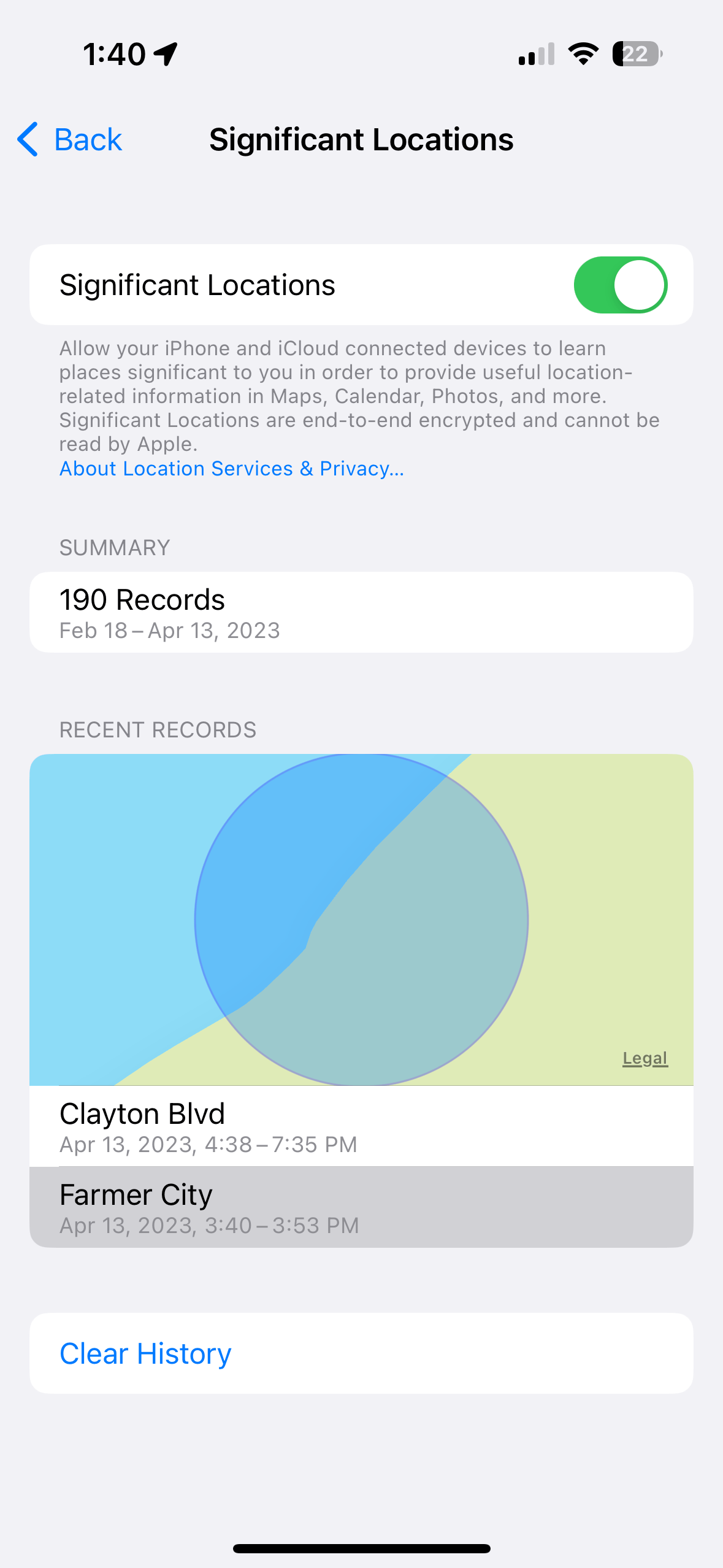 What is Significant Locations?
iPhone's Significant Locations feature is designed to determine the locations that are really important to you. It is part of Location Services and uses machine learning. How this works is that your iPhone keeps track of locations you visit in a log. This log is then analyzed, and locations that are significant to you are identified based on the frequency and time of the visits. Then this data is used to deliver more relevant personalized services on your iPhone. For example, this data is used to create curated collections called Memories in the Photos app. Maps can also use this data to predict your traffic routes in the near future. For example, as soon as you leave the market after you shop, you may be notified of the best route to your home.
How to view, delete or disable Significant Locations
You cannot view all of the significant locations. You can view the recent locations and the total number of location records. Here is how:
Open Settings and tap Privacy & Security.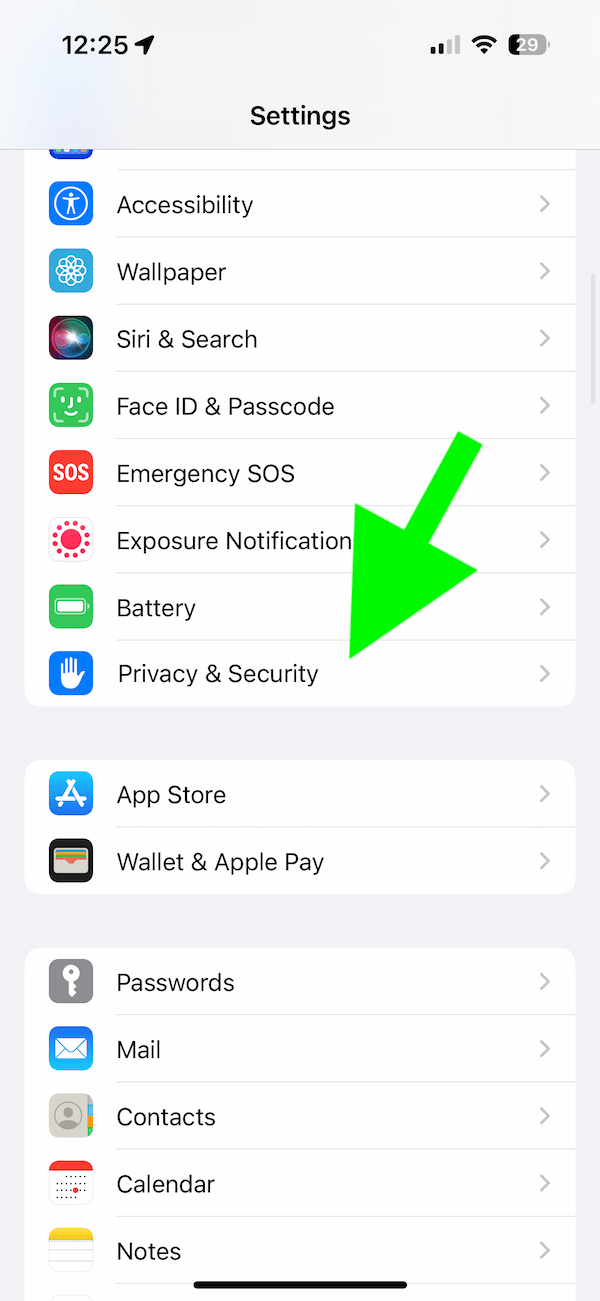 Tap Location Services.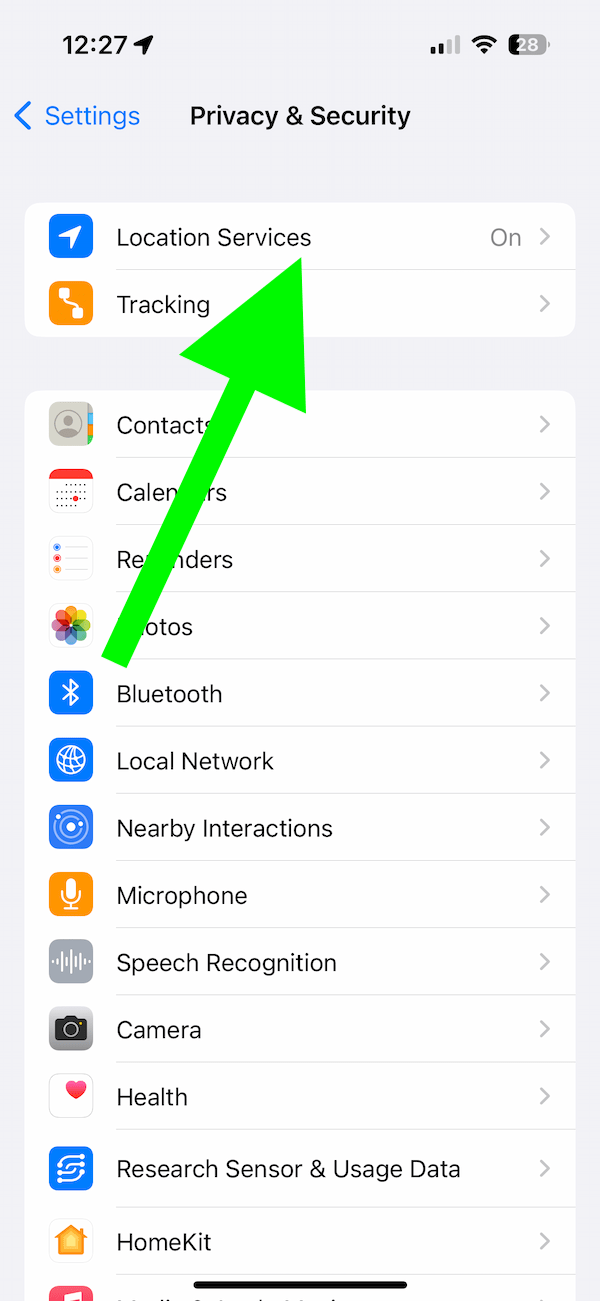 Scroll all the way down and tap System Services.
Scroll down and find Significant Locations.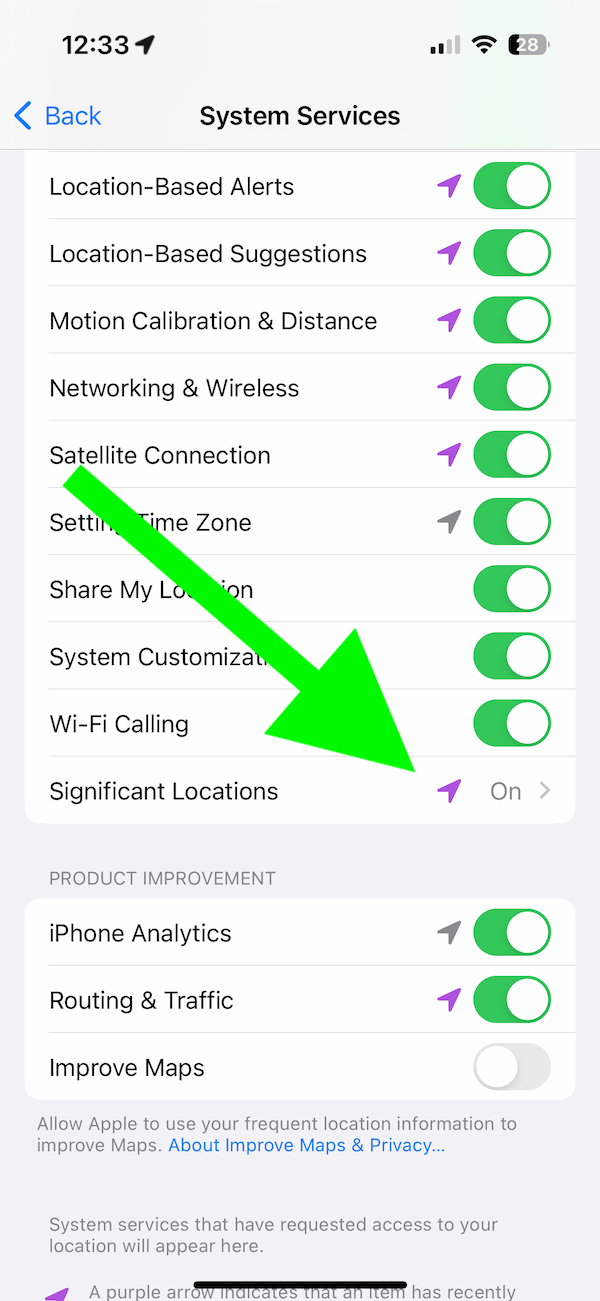 The next screen will need to authenticate using Touch ID or Face ID. Then you will see a summary of the Significant Locations along with a map. You will see one or two recent locations, as you can see below.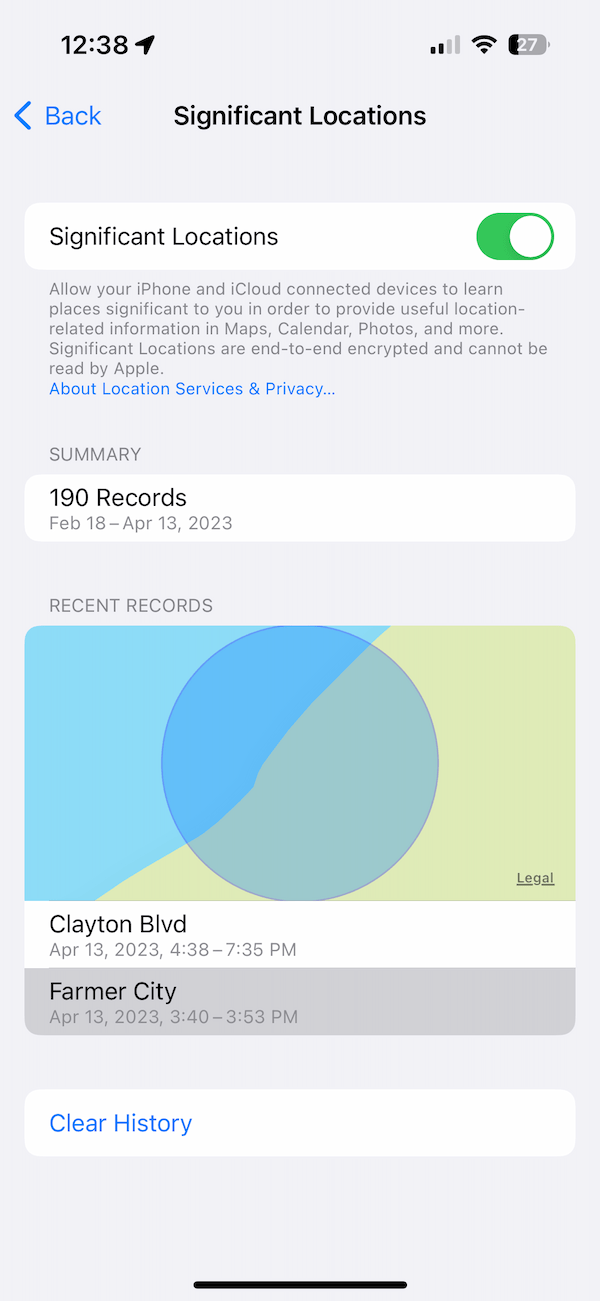 You can delete Significant Locations from your iPhone if you prefer. You may want to delete it if you think that it is not working properly. For example, if you think that the personalized recommendations are wrong, do this. Deleting it will reset and fix the issue for you. To delete it, simply follow the same steps above, and from Significant Locations, tap Clear History.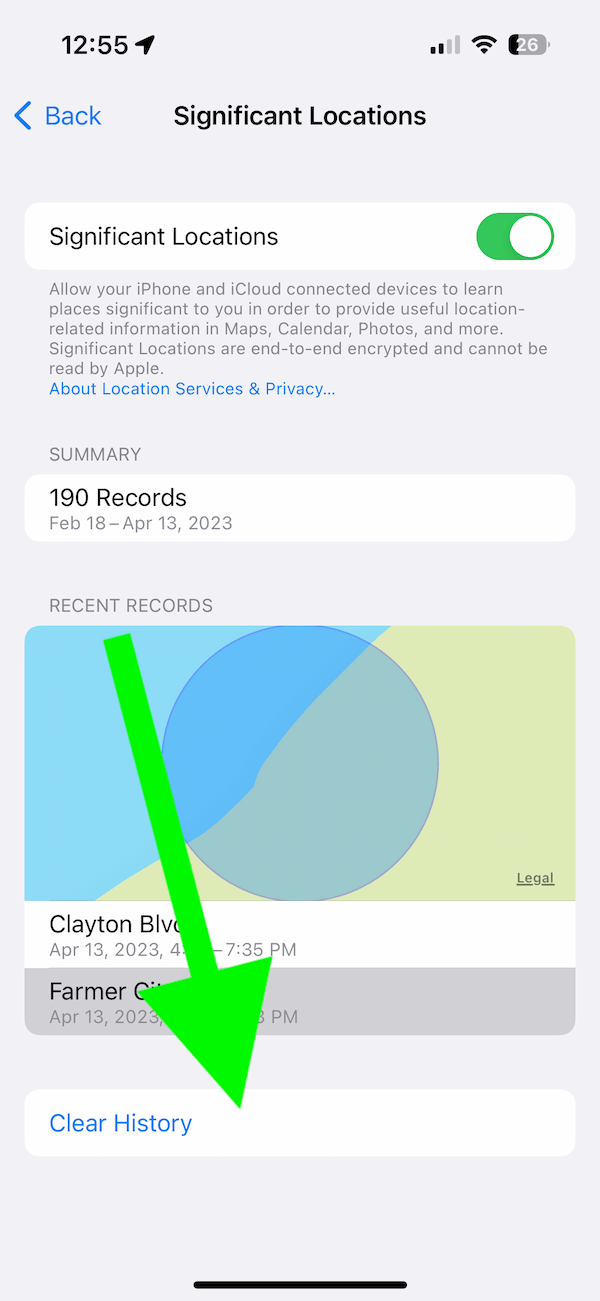 You can also disable Significant Locations if you prefer. This is enabled by default. Some people may worry about the privacy aspects of this feature because this data will sync to your other iCloud enabled devices signed with the Same Apple ID. You should know that Significant Locations data are encrypted, and Apple and its employees cannot read them. To turn it off, navigate to Significant Locations in Settings and then switch the button off next to Significant Locations.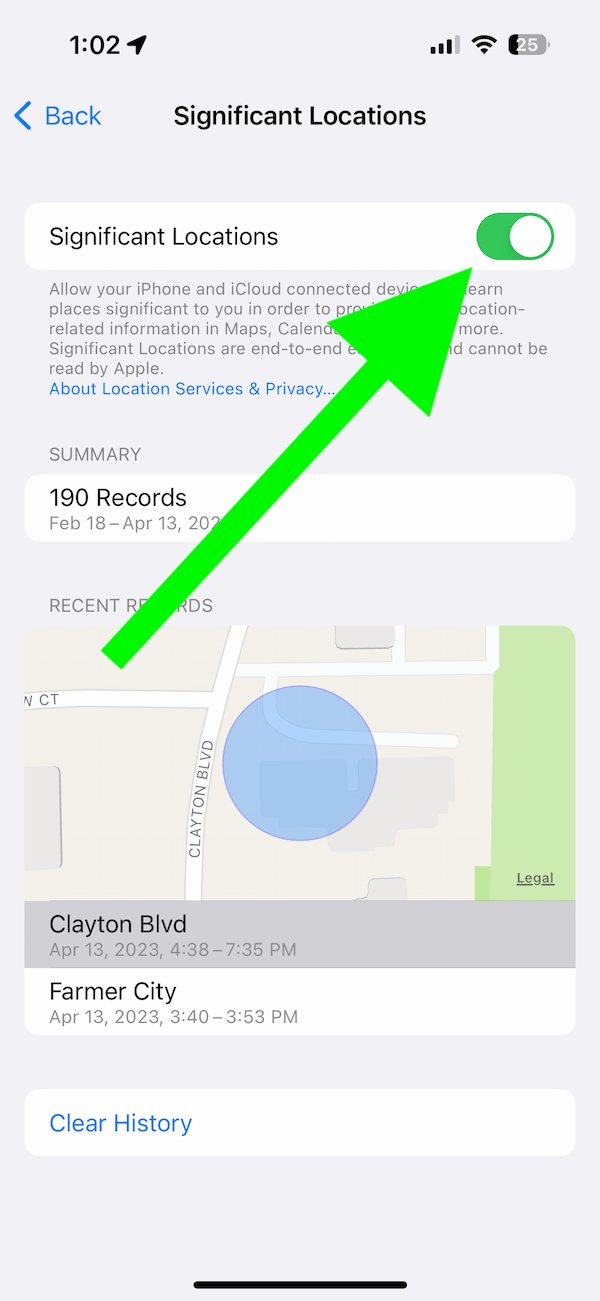 Related articles