Siri Won't Recognize Contacts, Fix
Several users have reported issues with Siri. More specifically, users have said Siri will no longer recognize the contacts and thus they are unable to use Siri to make calls or send messages to the contacts. Some users have stated that they experience this issue with iCloud Contacts. And lastly, users may experience this issue using iPhone, iPad, Apple Watch or AirPods.
For example, you can call someone on your Contacts list by saying something like "Call Serhat's mobile." It is reported that when users attempt to call a contact, Siri says something like "Sorry I don't have a number for Serhat" or "I don't see a 'Serhat' in your contacts. Who would you like to call'; even though Serhat is on the contact list.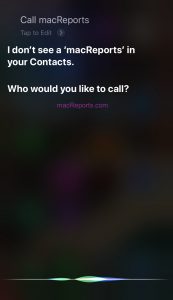 Using Siri, you can place calls or send text messages (and iMessages) to the contacts on your iPhone or iPad.
Siri may not work as expected sometimes. Are you having this problem too? Then this article is for you. This article explains how you can fix if you are unable to use Siri to call, message or email your contacts.
Please try each of the following steps before moving on to the next to see if your Siri issue is fixed:
Before you do anything, check Apple's system status page. This page will let you know if the Siri or iCloud Contacts services are having issues. If there are outages, this means Siri may not work temporarily.
1. Restart your iPhone. Here is how you can restart your device:
iPhone X, 11 or later: Press and hold the power (side or top) and volume up (or down) buttons together until the power off slider appears. Then drag the slider. Wait one minute until your device completely shuts off. Then press and hold the power button until the Apple logo appears.
Other iPhone models: Press and hold the power button (side or top) until you see the power off button then drag the slider. Wait one minute. Then press and hold the power button to turn on your device.
2. Make sure that your iPhone is connected to the Internet by using an available Wi-Fi or cellular network. If you have no connection at all, Siri will say "Siri Not Available". If your connection is poor, Siri may say something like "One moment" etc and take a long time to respond. It is likely that this does not cause your problem but you may still want to check this.
Turn on Airplane Mode on your iPhone and then wait 1 minute and turn it off.
If you are using a Wi-Fi connection:

Make sure that you are close to your router.
Try a different connection if possible.
Restart your Wi-Fi router. Unplug the power supply, wait 1 minute and plug the power supply back in.

Reset network settings by going to Settings > General > Reset > Reset Network Settings. Please note that, as the name implies, this will erase all of your network settings such as Wi-FI, Bluetooth, etc.
Please also see the following articles to troubleshoot this problem:
3. Update your iPhone. You can check for updates by going to Settings > General > Software Update. And if there is an update available, click Download and Install and then follow the onscreen instructions.
4. Check that Contacts are on for Siri. Here is how you can check this:
On your device, go to Settings.
Tap Siri & Search.
Scroll down and find Contacts.
And make sure that everything is turned on.
5. Turn off iCloud Contacts and then turn it on. Here is how:
Please note that when you disable iCloud Contacts, you will still be able to view your contacts on your other device or on iCloud.com. But still, just in case, you may want to make a copy of your contacts before disabling this. Here is how:

On your Mac, open Contacts, click All Contacts.
File > Export > Export vCard. And save it on your computer.
If you do not have a Mac, you can also do this on iCloud.com. Open a web browser, visit icloud.com and sign in to iCloud.com using your Apple ID and password, then click Contacts, then click the settings icon then choose Export vCard.

On your iPhone, tap Settings > [your name] > iCloud >and toggle off Contacts. You will be asked to "Keep on My iPhone" or Delete from My iPhone". Select Delete from My iPhone. Then turn it back on.