Settings Error: Operation Couldn't Be Completed, Fix
Some Mac users have been unable to modify certain settings within the System Settings (previously, System Preferences) app on Mac and instead get a Settings error regarding ExtensionKit. The error message is:
Settings Error. The operation couldn't be completed. (com.apple.extensionKit.errorDomain error 15.)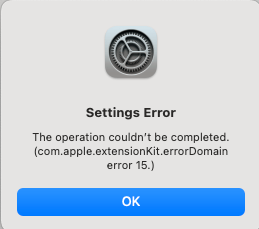 From the user reports, it appears that you may run into this issue when you are trying the following actions in System Settings:
Changing Internet Accounts settings (adding or removing Google, Yahoo, or iCloud accounts).
Setting up Screen Time.
Changing Wi-Fi settings or Firewall options in Network.
Turning on FileVault or changing Security settings in Privacy & Security.
Changing Spotlight settings in Siri & Spotlight.
You may experience this ExtensionKit error doing other things, too, such as:
Opening the Mail app and checking email.
ExtensionKit allows an app to perform functions in another app in macOS 13 Ventura and later. This article explains what you can do to try and fix the Settings Error problem.
First try these to fix the ExtensionKit error
Shut down and restart your Mac
The first step is to ensure that your Mac is up to date. Go to System Settings > General > Software Update. Wait for your Mac to check for updates. And if there are updates, follow the onscreen instructions. If your Mac is up to date and still getting this error, turn off your Mac and then turn it on again. Go to Apple  menu > Shut Down. Do not click on Restart. Ensure that your Mac is powered off, and then push the power button to turn it on.
Boot into Safe Mode
We previously explained how you can restart your Mac in Safe Mode. For more detailed instructions, you can review that article.
First, if you do not know already, determine your Mac type. You want to know if it is an Intel Mac or a Mac with Apple silicon. This is simple; just go to the Apple  menu and select About This Mac. Then follow the instructions below:
Apple silicon:
Power off your Mac.
Press and hold the power button until you see the startup options screen. This is a black screen with your startup disk and an Options icon.
Select your startup disk and press and hold the Shift key on your keyboard and click Continue in Safe Mode.
Intel Mac:
Turn off your Mac.
Turn on your Mac and immediately press and hold the Shift key.
Release the Shift key when you see the login screen. And log in.
Now your Mac is in Safe Mode, repeat the steps that produced this Settings Error. Do you still get the error?
Now exit Safe Mode. You can exit by restarting your Mac. Again open Settings to see if this problem occurs again.
If your issue continues, contact Apple for further help. It is possible that this is a bug that will be fixed with a future update.
Related articles