FaceTime History not Showing all Calls or Has Disappeared, How to Bring it Back
You can easily locate your FaceTime call history on your iPhone or iPad. This call history consists of a list of FaceTime calls you've made, answered, or missed. You can view this list by opening the Phone app or the FaceTime app. The Phone app lists all of the calls, including cellular and FaceTime calls, while the FaceTime app only lists the FaceTime calls.
See also: iPhone Not Showing Recent and Missed Calls
I have recently noticed that some of the calls from the FaceTime call log are disappearing and FaceTime is not showing all calls, even though it appears that there is space on the screen for many more entries. The purpose of this article is two-fold:
To explain why FaceTime is not showing all calls.
To fix this problem by bringing back the missing call entries.
Follow the steps for when FaceTime is not working properly.
FaceTime call history
Your device; iPhone, iPad, or Mac, stores the 1,000 most recent calls. But your iPhone will only display the last 100 calls. This cannot be changed as your device has no setting to adjust this. As stated above, the list of the recent calls can be viewed in the Phone and FaceTime apps, and they both share the same database.
This means that if your FaceTime call entries are disappearing in the FaceTime app, more calls are added and older calls are being removed from the list. For example, when you make a new call, this call will replace the oldest one (the 100th one) in your call history.
If you want to look further back into your FaceTime call history, you will need to delete some calls on your iPhone or iPad. For example, if you remove 20 recent calls, 20 older ones will show up in your call history. To delete a call:
Open the Phone app.
Tap Recent.
Find an entry to delete and swipe left and tap Delete.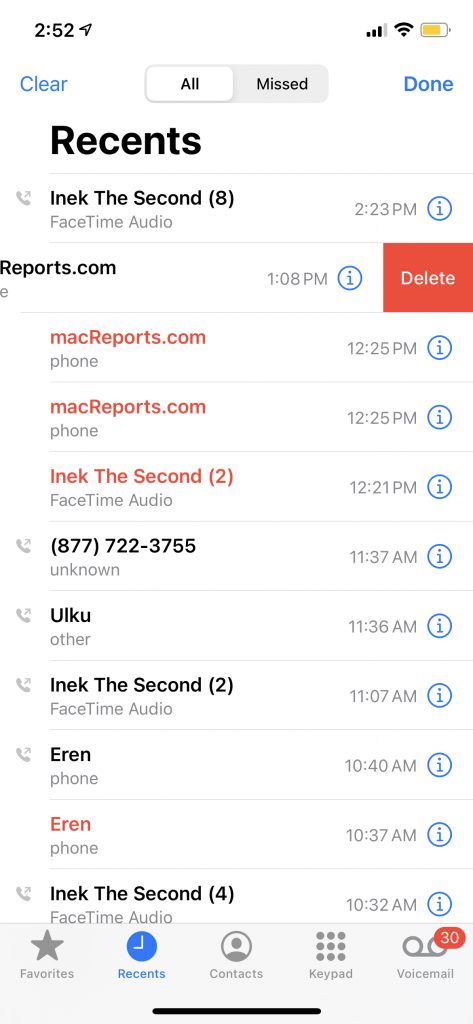 Please note that in this history, the list entries are ordered chronologically, and if you do not have a lot of FaceTime calls, you may need to delete more than one call to bring back one FaceTime call.
Also note that you can delete your entire call history, if you want to do so:
Open the Phone app.
Tap Recent.
Tap Edit.
Tap Clear, then tap Clear All Recents.
If you are worried about deleting your call history, your regular cellular calls (not FaceTime) should be available from your cell carrier (Verizon, AT&T, etc). For most people, this means just going to your usual log-in site (your carrier account page) and finding the call history for your account. Or you can contact your carrier.
See also: