Images or Videos Can't be Downloaded in Messages? Fix
You may send or receive images or videos in an iMessage or SMS via the Messages app on your iPhone or iPad. We, my family, frequently use Messages to share our photos with each other. Sometimes, you may be unable to view this content because you are not able to download them in Messages. Some of the photos or videos may not show their thumbnails. Instead, they may show a Tap to Download or Download button. However, in this problem, Tap to Download does nothing; even after tapping it, the download does not start as it is supposed to. Some users have also reported that the images disappear after they read the message and are replaced with the download button or a question mark icon that does not function when it is tapped.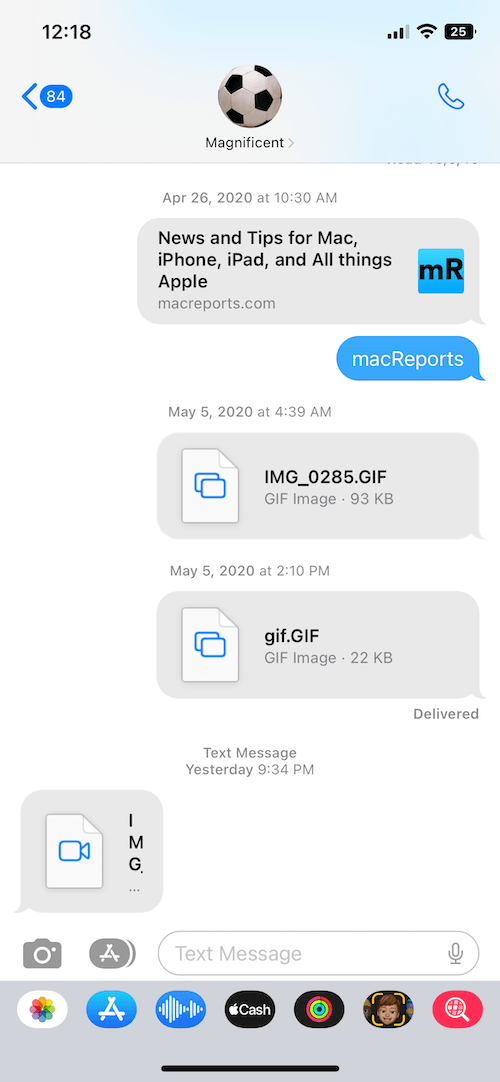 In this article, I list several steps to fix this particular issue. If you are having issues with downloading attached media content in Messages, this article may help you. Try the steps below in the order I have listed. It is important that, after each step, you should check if your problem is fixed. Before you do anything, restart your device. Restarting may fix your issue. If not, try these steps.
Please note that a similar issue may also occur on your Mac. If you are having this issue on your Mac, see: Images or Videos Not Showing in Messages on Mac, Fix
Check the available storage on your device
Insufficient storage may cause issues like this one. If your device does not have enough storage, your iPhone or iPad may not download the images or videos. Check how much space your device has. You can do so by going to Settings > General > [Device] Storage. If you do not have a lot of storage, you may want to free up some space. You will probably see a list of recommendations that you can follow.
If you are using iCloud Photos, then you should also check to see if you have enough storage in iCloud. You can review and manage your iCloud storage by going to Settings > [your name] > iCloud.
Update your iPhone or iPad
Ensure that your iPhone or iPad is using the latest version of iOS or iPadOS. Since Messages is a native app, updates to iOS or iPadOS will include Messages updates. If this Tap to Download problem is a widespread problem, Apple may have already addressed it with an update. Updating your device is really easy. Simply go to Settings > General > Software Update. This screen will initiate a software update check. If there is an update, tap Install and then follow the onscreen instructions.
Download images from iCloud
If you can't see the videos or images in the message content, you can try to download it from iCloud. Here is how:
Open Messages.
Tap the conversation where no messages are showing.
Tap the contact's name. If this is a group message, tap the group name.
Scroll all the way down.
You may see a message saying "[number] images in iCloud" with a Download button under it. Tap this Download button. This may trigger images to appear.
Turn iCloud for Messages off and on
This may be an iCloud sync issue. We can try to restart Messages syncing by following the steps below:
On your iPhone or iPad, go to Settings > [your name] >iCloud > Show All > Messages. Turn off the switch next to "Sync this iPhone." A popup will appear saying, "messages have not been fully downloaded to this iPhone or iPad." Tap Disable and Download Messages.
Restart your device.
Now, again, go back to Settings > [your name] > iCloud > Show All > Messages and turn this back on.
Your device will download your messages from iCloud again. This may take some time. In the Messages app, you will also see a progress bar saying, "Downloading Messages from iCloud…" This is normal. Be patient. It will disappear when syncing is complete. If this message does not disappear after a few hours and seems stuck, we have previously covered this issue as well. See our article titled "Stuck on Downloading Messages from iCloud."
After trying the steps above, if your issue persists, you may want to reach out to Apple Support directly. You can also live chat with an Apple support agent. If you prefer not to live chat, you can have Apple call you.
Related articles