Mac Update Stuck "Checking for updates…", How to Fix
Some users have said that they are unable to update their Mac to the latest version of macOS. They have said that they go System Preferences > Software Update, click Update Now (or Upgrade Now) and the update process never passes a screen saying "Checking for updates…" In this article, I explain what you can do if you run into the issue of a stuck update on your Mac.

macOS will normally finish the installation process, but it may take some time. However, if you are stuck on the "Checking for updates…" screen for hours, that means you have a problem. You may notice that the update screen is frozen, and you may also see a spinning wheel image indicating the update is not responding. Often, when a user tries the update process again, the problem occurs again.
I should mention that most of the time macOS updates go smoothly. It usually takes several minutes. The process is as follows: your Mac checks for updates, downloads the update from Apple servers, installs the new software, and then your Mac restarts. After the restart, you can enjoy the new improvements in the latest macOS.
If you are having this problem, it is important to fix it quickly. Updating your computer is a critical step to keeping your Mac running securely and smoothly. Please try these steps, in order, to get rid of this problem.
A few possible causes of this error
There could be several possible problems that cause the "Checking for updates…" loop. Some of them include, but are not limited to:
A slow or unstable Internet connection.
Unresponsive Apple update servers.
Lack of available space on your Mac.
Software conflict.
A pre-existing issue that interferes with the update.
Check your Internet connection
As stated above, a poor Internet connection can cause this problem. If your connection is the problem then your Mac won't be able to reach the update servers, as the update files need to be downloaded first. If you are having issues, try restarting your router or modem by unplugging and replugging the power cord. If this does not help you, you can also reset your network settings on your Mac.
Likewise, if you have antivirus software, disable it temporarily and try again. Your antivirus software may be the problem. Software that may prevent updates also includes security or cleaning type of third-party apps.
Check Apple servers
If your Internet works, the next step is to check to see if there is an outage on Apple's side. Apple may be having issues. You can easily check this. Go to the Apple System Status page (direct link) and find the macOS Software Update option. If you see a green icon next to it, then there is no outage. If you see a red dot, this indicates a problem. In the screenshot below, at the time it was taken, there was no issue with the update servers.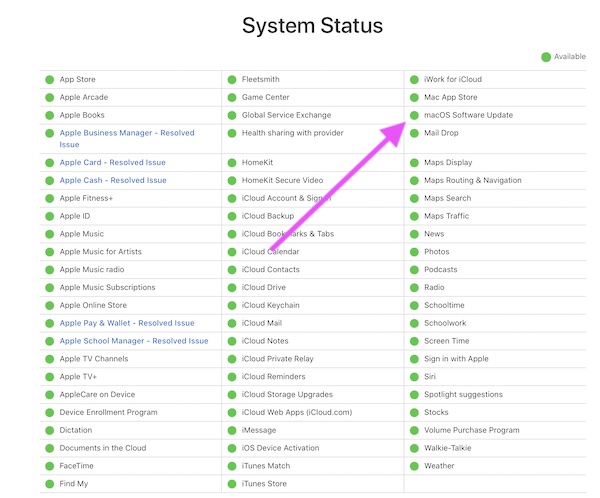 Check your storage
These updates can be pretty big, especially for the major upgrades. Since the update will first be downloaded onto your Mac, the update may fail if you do not have enough available space. Go to the Apple menu and choose About This Mac, then click Storage. If you need to, you can free up storage space on your Mac. If you have a lot of space available, you should not worry about this for now.
Turn your Mac off, then on again
Yes, it is a cliche. But you should do this. It often solves problems, and it may solve this problem too. If the update is stuck in the background, restarting will flush the system and this may fix your problem.
Go to Apple menu > Restart. After restarting, open System Preferences and click Software Update and try again.
Boot your Mac in Safe Mode
Safe Mode is like a restart, but with some extras (or fewer extras – if you are considering what software gets loaded). Safe Mode will check your system and clean cache files. It is a diagnostic mode of macOS. What you should do is try to update your Mac in Safe Mode. If the Mac updates do install successfully, then restart your Mac and carry on as usual with your Mac. However, if the update does not work in Safe Mode, exit Safe Mode and try updating again. Opening Safe Mode requires different steps on Intel and Apple silicon Macs. We have written about this previously; See our article on Safe Mode.
Delete macOS Install data
You may want to remove the macOS Install folder. The current folder may be causing this problem. You can delete this and restart your Mac, then try to update again. Here is how:
Open Terminal on your Mac (in Applications > Utilities).
Enter the following command and hit enter. Enter your administrator password.
sudo rm -rf "/macOS Install Data"
Restart your Mac and try again.
Reset the Software Update preferences
Your software update preferences may be corrupted and causing this problem. You may want to reset them. This involves deleting a plist file and letting your Mac create a new one. Here is how:
Open Teminal again.
Enter the following command and hit enter.
sudo rm /Library/Preferences/com.apple.SoftwareUpdate.plist
Now restart your Mac and try to update again.
Conclusion
The "Checking for updates…" issue is important for sure. I explained how you can fix this error on your Mac. Hopefully, one of the steps I listed above will fix your problem. If not, we previously wrote about similar issues too. I have added their links in the Related Articles section below. Be sure to check out those articles as well.