iPhone Stuck on Preparing Update, How to Fix
Apple periodically releases updates and upgrades to its iOS operating system. These updates may bring new features and fixes for bugs. Upgrades are major (e.g., iOS 15, iOS 16 etc.), and updates are minor (e.g., iOS 15.02, iOS 16.1) releases. Usually, these updates are easy to do and go smoothly. However, sometimes you may run into issues. A common issue that can occur with any update is when iPhone is stuck on a screen saying, "Preparing Update…"With this issue, the iPhone never passes this screen. This issue may also occur on the iPad. In this article, I explain what you can do to fix this error and update your device successfully.
What is 'Preparing Update…'?
The Preparing Update step is a part of the iOS update and occurs after your device has downloaded the update from Apple's update servers. This step involves your device preparing and configuring the downloaded files. After this, your iPhone restarts to install the new update. This step usually lasts a few minutes. You will also see a progress bar under it. However, if you notice that the progress bar is not moving at all for a long time and the screen hangs in this step, there is something wrong with the update. If your iPhone hangs on this screen for more than an hour, you should cancel the update and try again.
Why is your device stuck on 'Preparing Update…'?
There could be many reasons, for example:
Poor Wi-Fi connection.
Some sort of interruption in the download, process causing corrupted files.
Lack of response from Apple's servers.
Lack of available storage on the iPhone.
How to fix this
Follow these steps in this order until your problem is fixed.
Ensure that your iPhone is connected to the Internet. If you are having Wi-Fi issues, you may restart your Wi-Fi router. Try these also:

If you are using Hotspot, turn it off.
If you are using a VPN, disconnect and try again.
Try to use a Wi-Fi connection, if possible.

Ensure that your device has enough available storage to install the update. Ensure that your device has at least 6 GB of free space. You can check your storage by going to Settings > General > iPhone Storage. This screen will show your storage details. This screen will also show how much each app is taking up. You can delete or offload apps to free up storage. You can also delete your videos or photos if needed.
Restart your iPhone and then try again.
Delete the downloaded update file, and then restart the process. As I said above, this 'Preparing Update…' occurs after you download the iOS file. Follow these steps:

On your iPhone, go to Settings > General > iPhone Storage. Wait for a few seconds for the screen to populate. Find the iOS update file from the list of apps and tap it. Then tap Delete Update.
After deleting it, restart your iPhone.
Then go to Settings > General > Software Update and restart the update process again.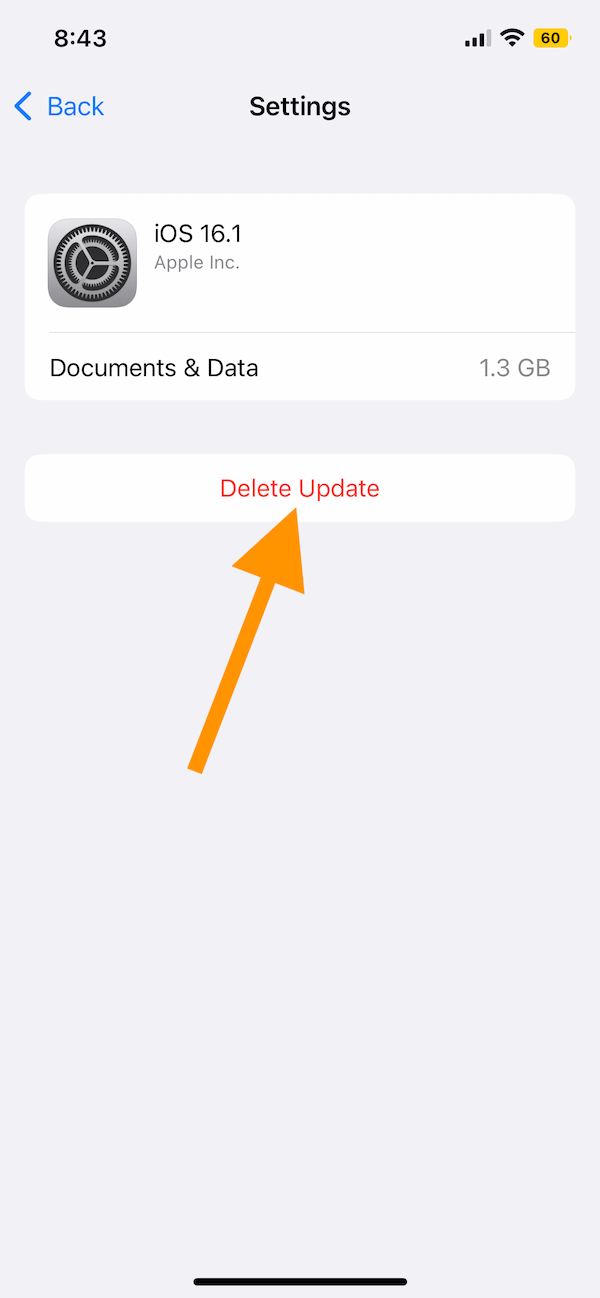 Update your iPhone manually instead of wirelessly
After trying every step above, if the issue persists, try updating your iPhone manually. For this, you will need a computer. Back up your iPhone first before you continue. Restart your iPhone and then follow the steps below, depending on your computer. Here is how:
If you have a Mac with macOS Catalina or later:
Connect your iPhone to your computer with the USB cable.
Open a Finder window.
From the left Finder sidebar, select your iPhone.
Click General > Check for Update and then follow the onscreen instructions.

If you have a Mac with macOS Mojave or earlier or a Windows PC:
Open iTunes on your computer.
Connect your iPhone to your computer.
Then in iTunes, select your iPhone and go to Summary > Check for Update.

Related articles