'Set Automatically' Grayed Out in Date & Time Settings on iPhone or iPad
Several users have reported that the 'Set Automatically' option for their iPhone's or iPad's Date and Time settings is grayed out or dimmed. This means that users are unable to turn on or off this option because the option is inaccessible for them.
If you are not able to change the date and time settings of your iPad or iPhone, then this article is for you. This article explains what you can do to fix if you're experiencing this problem on your iPhone or iPad.
You can turn on the option to set the date and time automatically by going to Settings > General > Date & Time. Then you will need to swipe the Set Automatically switch to the right. When you do this, your date and time based on your time zone will automatically be set.
For your iPhone or iPad to work properly, it is very important the date and time on your device are set correctly for your time zone. Because, if they are not set correctly, you may experience various problems. Your device clock's date and time settings will be inaccurate and this may trigger, seemingly, other unrelated problems. For example, you may not be able to connect to the App Store, iTunes Store, or other Apple services. Likewise, you may have issues making or receiving FaceTime calls.
Before you do anything, you have the latest version of iOS or iPadOS. You can check for updates by going to Settings > General > Software Update. If there is an update available, follow the onscreen instructions to update your iPhone or iPad.
See this article if Location Services Not Working (iOS, iPadOS), Fix
Screen Time
If you have Screen Time turned on on your iPhone or iPad, you may not be able to change some settings thus the Set Automatically option will be dimmed, or grayed out.
You can turn off and on Screen Time by going to Settings > Screen Time. In order to turn it off, you may need to enter your Screen Time passcode if you have set up a Screen Time password.
If you want to turn on or off Set Automatically, you will need to disable this. To disable it, go to Settings > Screen Time and scroll down and tap the red "Turn Off Screen Time" button.
See also: What Do Grey Bars Mean In Screen Time Reports?
Privacy settings
For this feature to work properly, you will need to allow your device to use its current location. Make sure that Location Services is enabled (Settings > Privacy > Location Services).
Furthermore, also ensure that the Setting Time Zone is turned on in Location Services. Go to Settings > Privacy > Location Services > scroll down and > System Services and enable Setting Time Zone.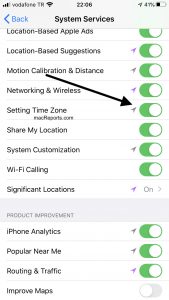 Update your carrier settings
Carriers may release updates occasionally to improve network connectivity and performance. You can check for a carrier settings update by going to Settings > General > About. A popup will appear saying "Carrier Settings Update. New settings are available. Would you like to update them now?" Simply tap Update.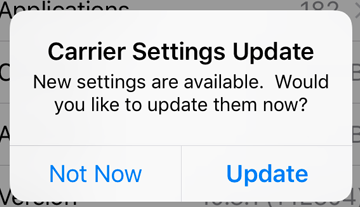 Reset all settings
Reset all settings on your iPhone or iPad to see if this can fix your problem. Doing so will restore all of your customized settings (sounds, display, Wi-Fi, etc) to the factory settings. Your data such as photos, apps, etc will not be affected. In other words, this will restore to the default settings without erasing your data.
Please go to Settings > General > Reset and then choose Reset All Settings. And then follow the onscreen instructions.
Other notes:
If you are still unable to fix your problem, please read the following:
Not all cellular carriers (AT&T, T Mobile, Verizon, etc) offer the option to turn on Set Automatically. You may want to contact your carrier for further help.
This feature is not available in all countries.
See also: What Does Arrow Icon Mean? Location Services Explained