Unable to Open Mail Because It Keeps Crashing in Ventura on Mac
It appears that for some users, the Mail app crashes quickly after launches. It seems that sometimes Mail quits as soon as it is launched or unexpectedly after some time. Users have said that the problem occurs in Safe Mode, also. Lastly, this issue seems to start only after updating to macOS Ventura. If the Mail app on your Mac quits unexpectedly, this means that you won't be able open and use the Mail app. The good news is that you can fix it by following a few simple steps.
We previously wrote an article on a similar Mail issue. If this article does not help you, I recommend you also read that article. Most of the suggestions described in that article would be applicable to this situation as well. This issue is important. You won't be able to use the Mail app on your Mac or MacBook to send or receive emails. If your email account offers web mail (like gmail.com, iCloud.com, aol.com, yahoo.com etc.), you can use your browser to check your emails until you address this issue.
There are also many new Mail features that Ventura introduced. For example, you can now schedule emails to be sent in the future, or you can now unsend an email. However, to be able to use these features on your computer, Mail should work without crashing.
Basics steps to try first
Ensure that your Mac is updated to the latest version of Ventura. Go to System Preferences > Software Update.
Quit the Mail app (Force-quit it if necessary) and then press and hold the Shift key while opening the Mail app. After the Mail opens, does it crash again?
Restart your Mac. Go to the Apple  menu > Restart. After restarting, try again.
Do you see a mailbox named Recovered Messages in the Mail sidebar? Delete it. There may be more than one Recovered Messages folder.
Rebuild your mailboxes. Here is how:

Open the Mail app.
From the top menu bar, select Mailbox > Rebuild.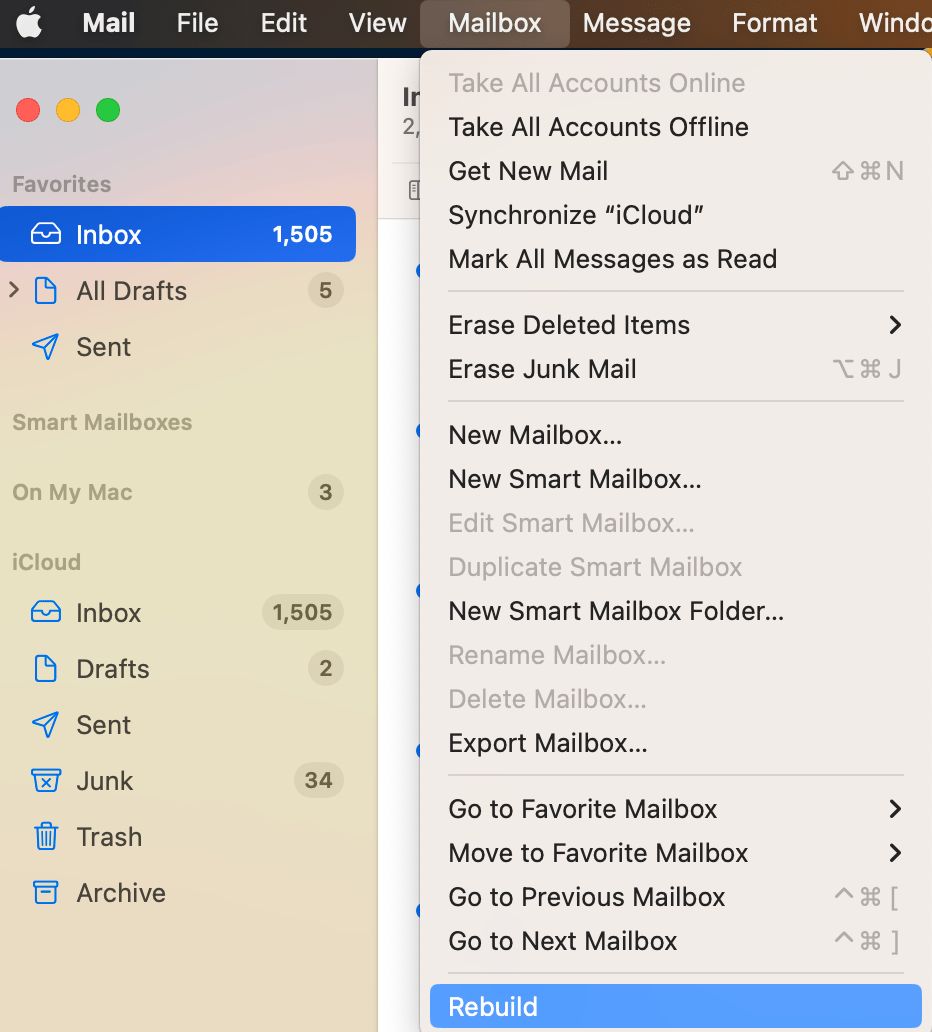 Delete Mail preference files
During the Ventura update, your preference files (plist files) may have become corrupted and caused the Mac Mail app to quit. You can try deleting them. Here is how:
Ensure that you quit the Mail app.
Open Finder, and from the top menu bar, select Go.
Now while the Go drop-down menu is open, press and hold the Option key. This will reveal the Library option. Click on Library.
Scroll down and find the Preferences folder.
Locate the following item:
com.apple.mail-shared.plist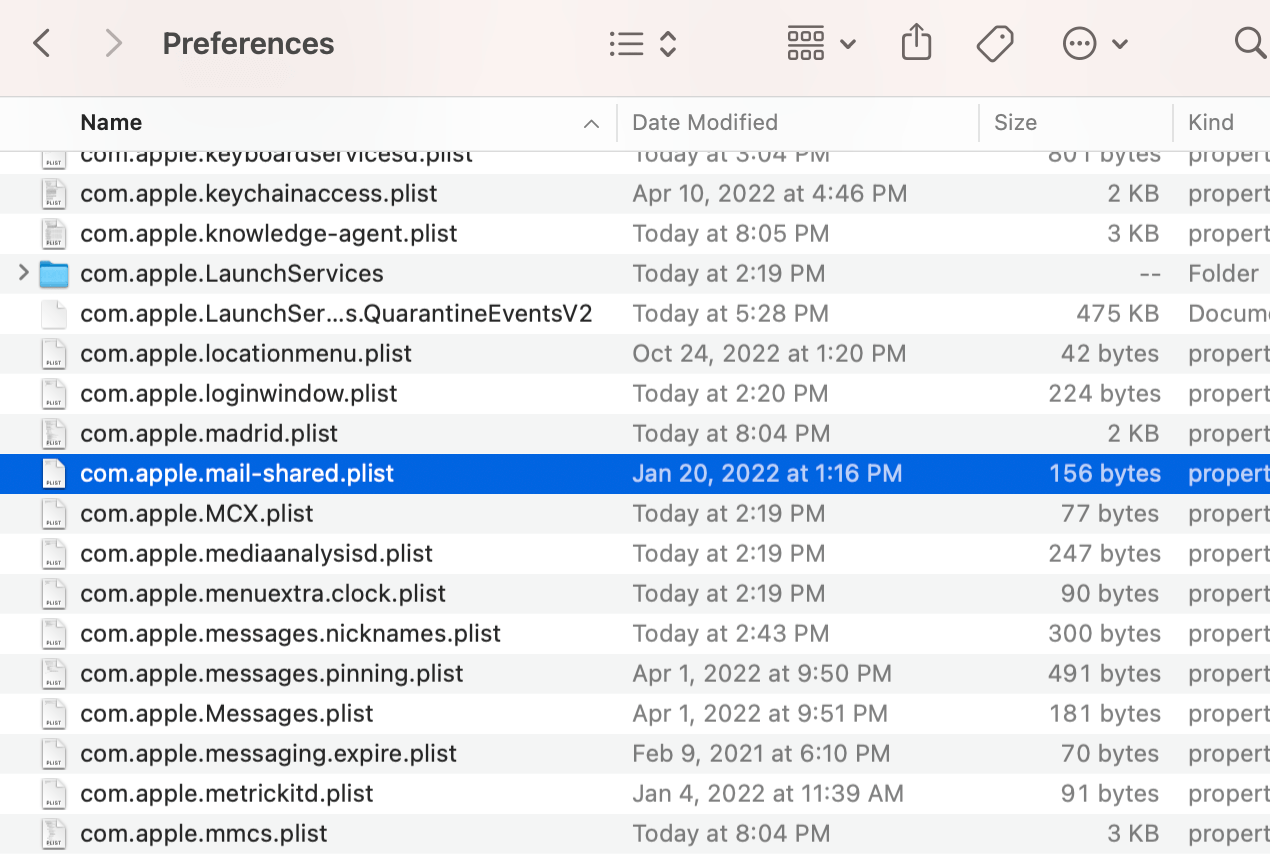 Move it to your Desktop.
Then from the top menu bar, click Go, then Go to Folder and type the following and hit Go.
~/Library/Containers/com.apple.mail/Data/Library/Preferences/
Select the following item and move that one to the Desktop too.
com.apple.mail.plist
Then restart your Mac. Open Mail to see if your issue occurs. If this does not fix your problem, if you want, you can put back the plist files that we saved on the Desktop. If the problem was fixed, you can move these files to the Trash.
Remove the envelope files
Quit the Mail app.
With Finder open, click on Go and Go to Folder and enter the following and hit enter:
~/Library/Mail/V10/MailData/
Locate the following items. You can use Command-click to select multiple items:

Envelope Index-wal
Envelope Index
Envelope Index-shm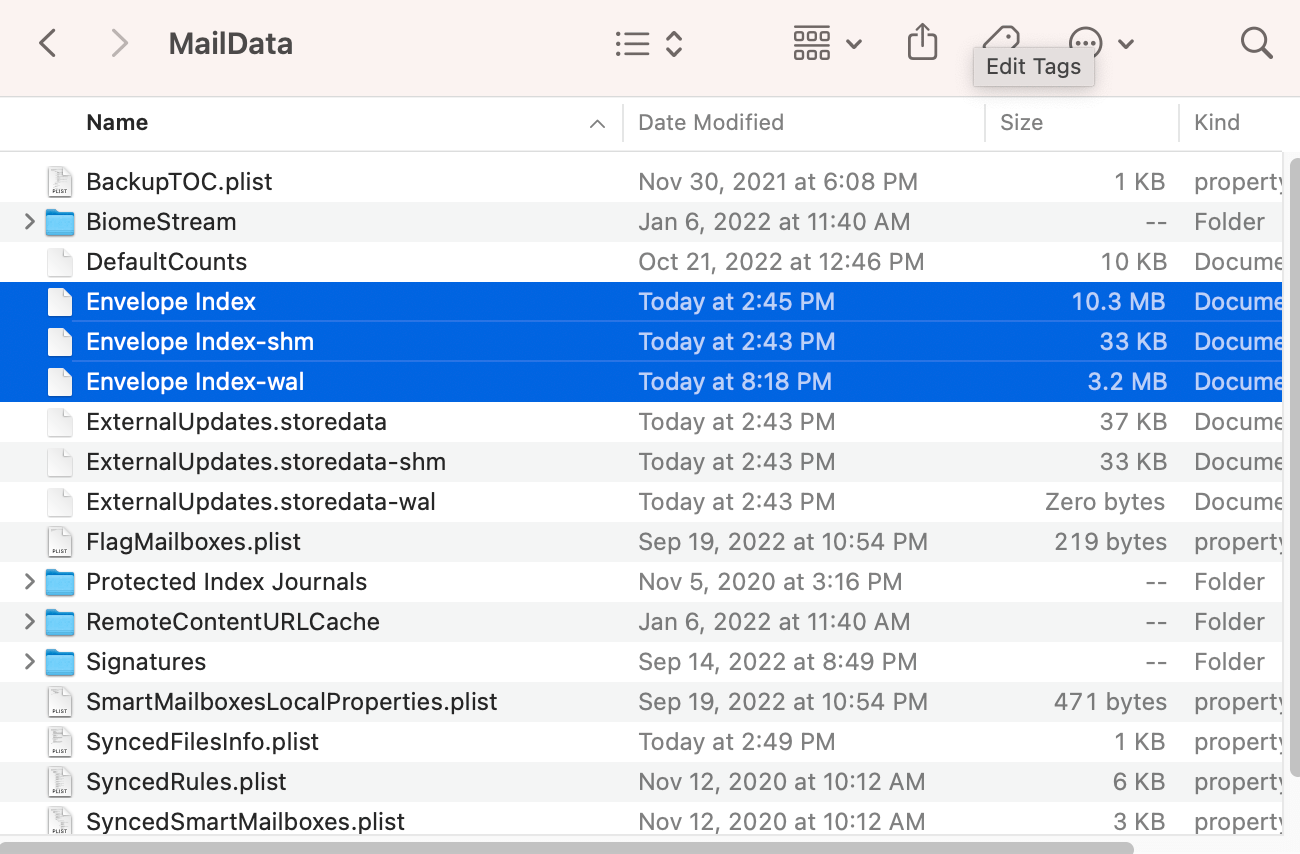 Again just like we did in the previous step, you may want to save them to your Desktop. Then restart your Mac. If your issue is fixed, you can then delete them. If not, you can restore them by putting them back if you want.
Related articles