How to Use an External Storage Drive with your iPad
Back in 2019, Apple released iOS/iPadOS 13 which included support for external drives and storage devices for iPhone and iPad. Through the Files app, you can access and manage files on a USB drive, SD card or a hard drive. The Files app also allows you to create and manage files and folders on your iPad, iCloud Drive, file servers and in other cloud storage like Box and Dropbox.
See also:
How to Connect a USB Drive, External Hard Disk or SD Card Reader
In order to connect a physical external storage device to your iPad, you will need to make sure you have the appropriate connector. This may mean that you will need to purchase something specifically for the purpose of connecting your iPad to the external device. Depending on your needs, you may want to purchase:
A cable with the appropriate connectors on each end.
An adapter which will connect an already existing cable to your iPad.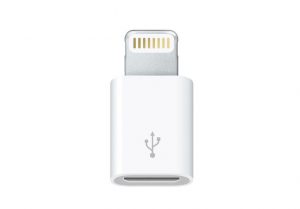 A multi-port adapter or hub which has two or more different kinds of connecter ports to use with different kinds of connecter cables.
If you are purchasing a cable or adapter, make sure you will be getting the correct one for your needs. Check your external device and/ or the cable it came with to determine what type of connection you will need on that end. Some of the common types of connecters are: USB, USB-C and micro USB. For your iPad, you will need to know if your iPad has a lightning connecter port or a USB-C.
USB-C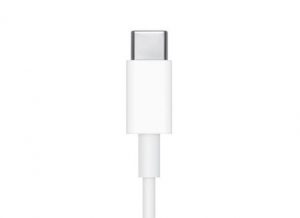 iPad Pro 11 -inch (1st and 2nd gen)
iPad Pro 12.9 inch (3rd and 4th gen)
iPad Air (4th gen)
Lightning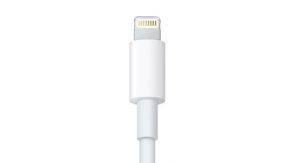 Tip:
If you are going to be using an external hard disk, it may require a power source to work properly (or at least not to drain your iPad battery) while you have it connected. To do this, you can use a multi-port adapter. For example, a lightning to USB 3 camera adapter has a lightning connector (to connect to your iPad) on one end, and both USB and USB-C connector ports on the other. This allows you to connect a power source, in addition to your external hard disk.
See also: How to Back Up your Mac with Time Machine
View the Contents of your External Device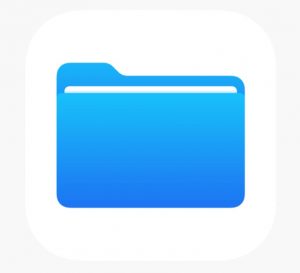 See also: Split Screen on iPad: How to Open and Close Apps
Connect your external device.
Open the Files app on your iPad.
Find your external device under Locations in the left sidebar. If you don't see the left sidebar:

Landscape Orientation: Tap the sidebar icon in the upper-left corner of your screen.
Portrait Orientation: Tap Files in the upper-left corner of your screen.

Tap on the name of your external device to show its contents.

See also: How to Share Files and Folders in iCloud Drive
Saving Files to/from your External Drive
Copying files to/from the Files App
You may want to copy a file to your external drive that is already saved in iCloud or on your iPad. You may also want to copy a file from your external drive – the process looks the same (except for the file location) and so we will just describe copying to your external drive.
See also: How To Delete Music From Your iPhone, iPad, Apple Watch or Mac
Find the file in the Files app by browsing from the left sidebar or by using the search field at the top of your screen.
Press and hold on the file icon until a menu appears. You can choose to copy, duplicate or move the file. For these instructions, we will choose Copy.
If you used the search function, you may need to tap Cancel in the upper-right corner. Open the file folder where you want to place the file you copied.
Tap and hold on an open spot on the screen until a small menu appears. Choose Paste from the menu.
See also: iPhone or iPad not Showing up in Finder on Mac, Fix
Saving from Another App
You can save a file to your external drive from within an app. The details may vary depending on the app.
Tap on the Share icon. From the menu, select Save to Files (or maybe Export …, depending on the app.)

Choose your external drive from the save menu. You may select a subfolder or create a folder by tapping the new folder icon at the top of the save menu. You may also change the name of your file before you save it by tapping on the file name.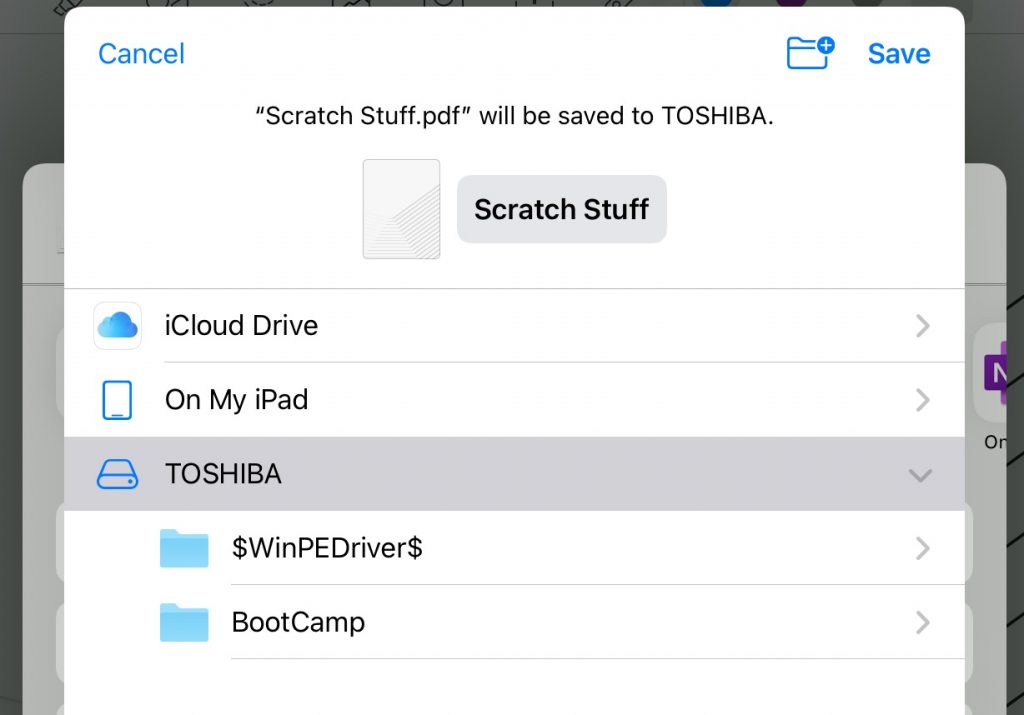 Tap Save in the upper-right corner of the save menu.
See also: How to Export Notes From The Notes App As PDF On iPhone & iPad
Importing from External Drive into an App
The instructions for this will be specific to the app, however, if you can import a file from your iCloud Drive into the app, you should also be able to import a file (of the appropriate type) from your external drive.
See also: How to Add Presenter Notes in Keynote on Mac, iPhone, and iPad
Related Articles: