What to Do If You See 'Service Recommended' for MacBook Battery
When you click on the battery icon in the top menu bar on your MacBook, you can see information about your MacBook's battery. You can see the charge percentage and if your MacBook is connected to power. You may have seen a small warning symbol in your battery icon, although this goes away after you click the icon. When you have a "Service Recommended" warning, you will see this message in the menu that pops up after clicking the battery icon. In this article, we will tell you what it means and what you should do when you see this message.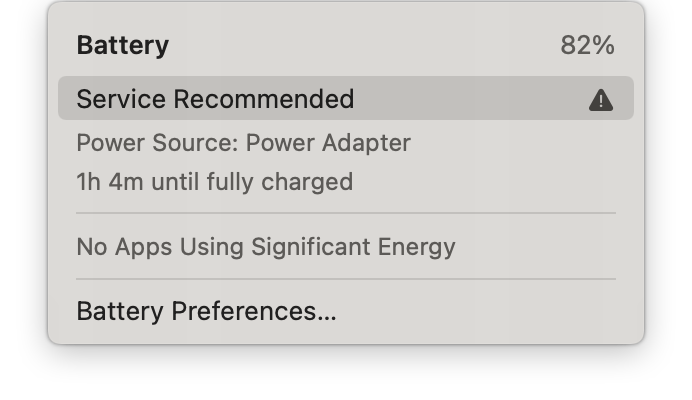 What has happened to your battery?
When you see "Service Recommended," you can investigate this a little further by doing one of the following:
Click on Service Recommended from the menu that opens when you click the battery icon in the top menu bar.
Go to System Preferences > Battery.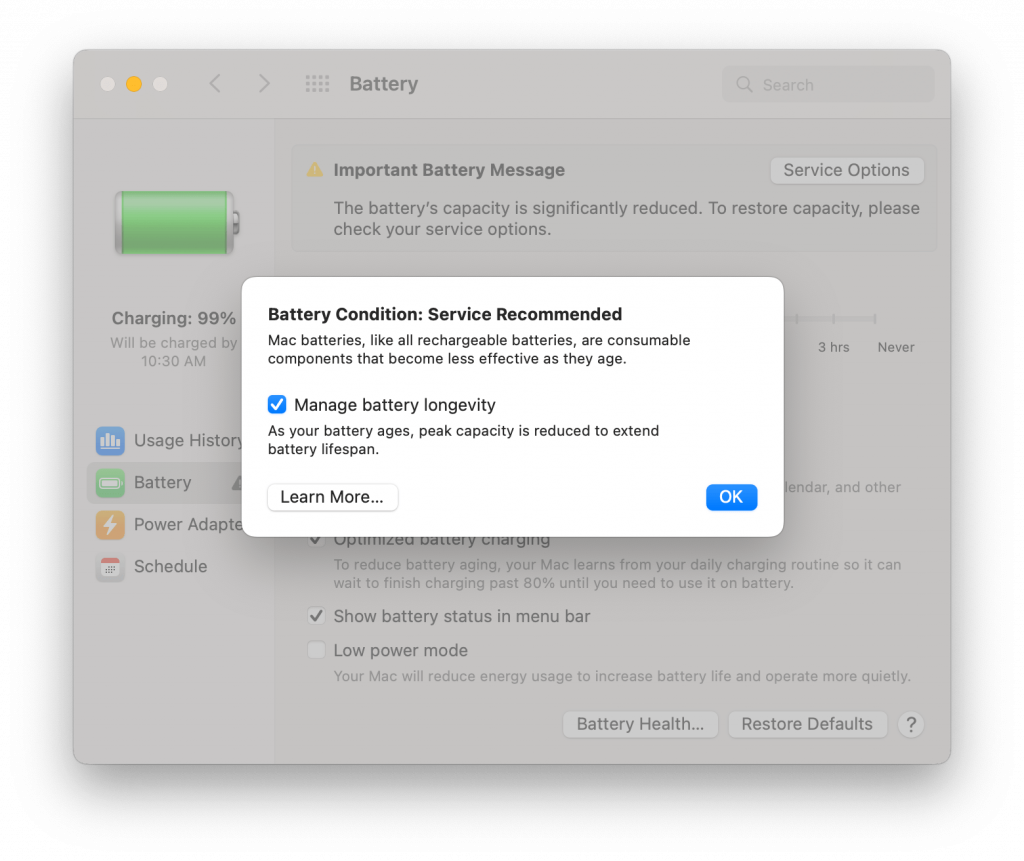 You will see in Battery that you have an "Important Battery Message" telling you that your battery's capacity is significantly reduced. You can also click on Battery Health to see what it tells you there; it doesn't tell you much except that, again, service is recommended and that batteries become less effective as they age.
There is really not much information here about your battery. You may be wondering:
Why is my battery's capacity reduced? What happened?

Batteries age. If your MacBook is more than a few years old, that can be enough of an explanation. You can also see how old your battery is in terms of cycle count:

Go to the Apple  menu. Press and hold the Option key and click on System Information. Select Power from the Hardware section on the left. Under Battery Information > Health Information, you can see your Cycle Count. Most batteries should last through around 1000 cycle counts, although their capacity can be reduced before this.

Is there anything I can do to fix it?

You can take it in for service.

Do I really need to do something about this?

The "Service Recommended" warning means that your battery is not working as well as it once did. There are, however, warnings that are more urgent than that. If you see "Replace Now" or "Service Battery," your MacBook is in greater danger of dying on you. However, you should at least be thinking about getting your battery replaced in the near future.
How to get your battery replaced
In some cases, your battery may be covered under Apple Care. You may also be eligible for a no-cost replacement if your MacBook model is eligible under a Service Program. To get your battery replaced, you can either set up a Genius Bar appointment or your can mail in your device.
You can start the process of setting up an appointment from System Preferences > Battery.
From System Preferences > Battery, click on Service Options.
An Apple Support page will open in Safari. Click on your device.
Under Solutions you will see "Bring in for Repair." Click on Find a location.
If necessary, enter your Mac user password to allow sign in. Click on Continue.
Choose a location, then schedule an appointment. Select a day and time.
Enter your phone number, click Continue and follow any further onscreen instructions.
If you have other questions, you can chat with Apple Support; however, I tried this myself and wasn't able to find out much. It seems, when it comes to batteries, the standard advice is to take your device in.
Related articles