Zoom Crashing on Mac, Fix
Several users have said that Zoom crashes on the Mac and MacBook. Users have further said that Zoom may crash (and freeze) during a session, on startup, or when joining a meeting, sharing screens, or turning on the camera/audio. Likewise, sometimes Zoom may cause your computer to restart.
Zoom may crash for various reasons. For example, the Zoom app may cause a high CPU and RAM usage leading to a computer crash.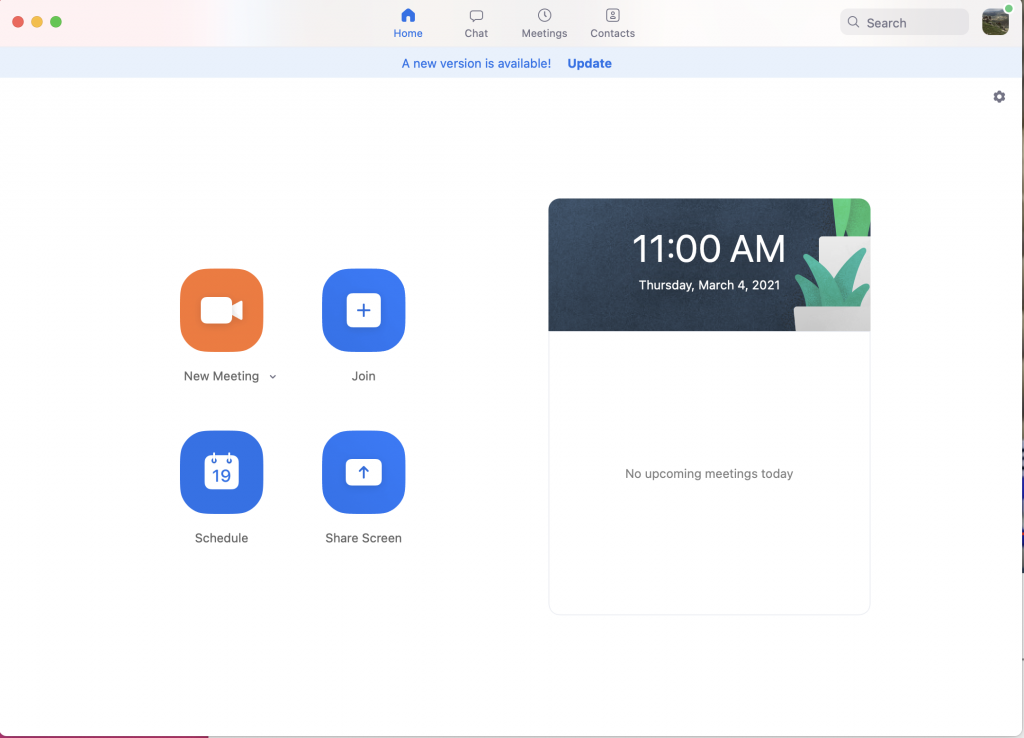 If Zoom is causing your Mac to freeze, see this article.
A lot of users use Zoom. After installing Zoom, are you having this problem too? In this article, we explain how you can fix Zoom crash problems on your Mac computer.
Update
Update to the latest version of macOS and the Zoom software. Here is how you can check for updates:
Mac: System Preferences > Software Update. And if there is an update, follow the onscreen instructions to update your Mac.
Zoom: Open Zoom and click zoom.us (menu bar) > Check for Updates.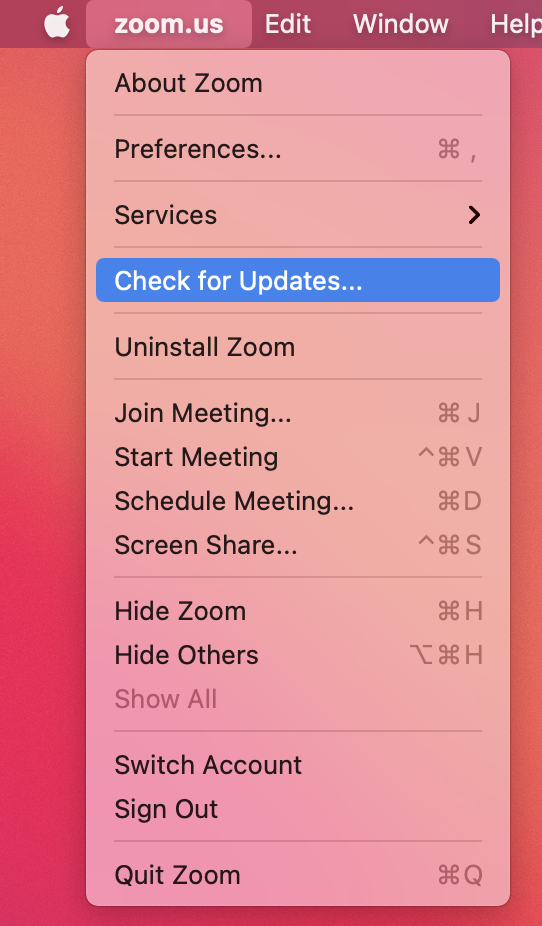 Quit apps
Close all unnecessary open apps on your Mac as they may be using a lot of CPU power. If you have too many apps open at once, this may cause issues. To do that, choose App Name (e.g., Google Chrome) > Quit App (e.g., Quit Google Chrome) in the menu bar.
Also, note that you can use Activity Monitor to check your Mac's CPU usage and figure out what apps are using the most resources.
Hardware acceleration
Some users have said that disabling the "Enable hardware acceleration for receiving video" option resolved the issue for them. You can try this also. Here is how:
While in Zoom, click zoom.us in the menu bar.
Click Preferences.
Click Video (left-hand sidebar).
Scroll down and click Advanced.
Ensure that "Use hardware acceleration for receiving video" is unchecked.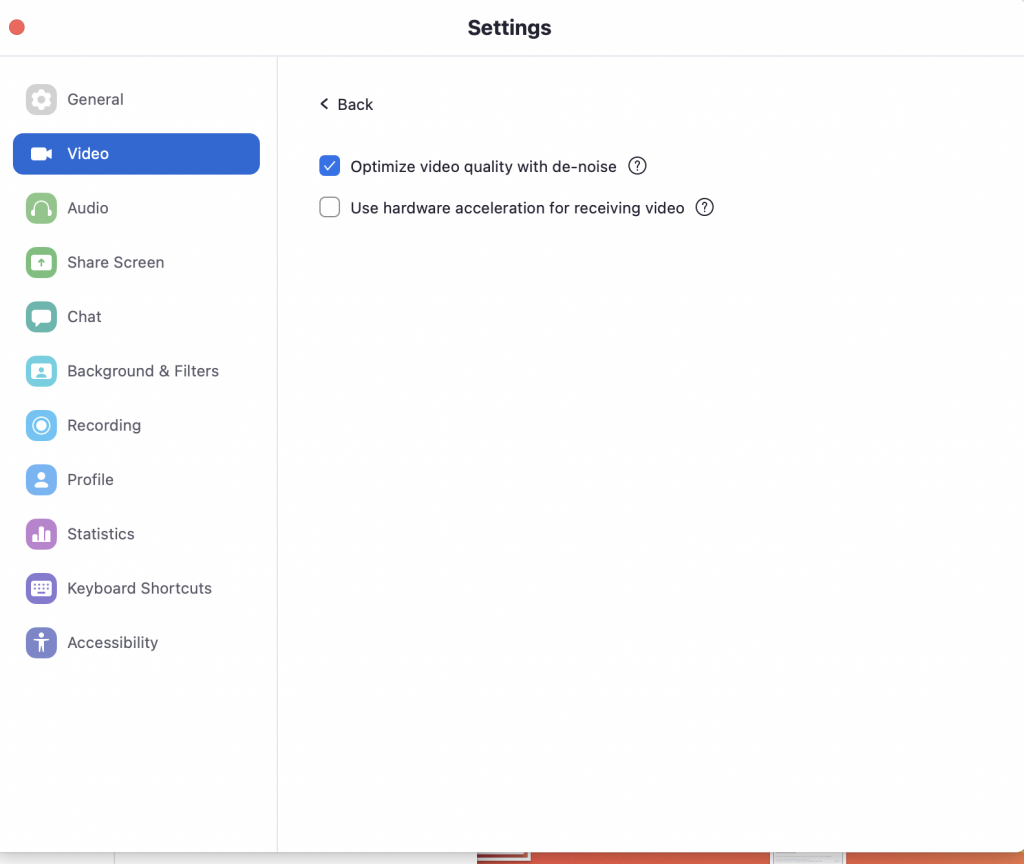 Test your problem. If Zoom is still crashing, then you may want to enable this option again.
Connection
Zoom video calls require significant bandwidth. It is known that Zoom may crash because of connection-related issues. Issues like low bandwidth, busy Wi-Fi, unreliable connection or throttling can cause this issue.
Check for issues that might be slowing down your Internet connection. You may also want to contact your service provider. Ensure that your Wi-Fi connection is fast and reliable. You can try a wired connection. Or you can switch to a different Wi-Fi connection.
Contact Zoom
Since Zoom is a third-party app, you may want to contact Zoom first, instead of Apple. It is best to share your crash logs with the Zoom developers so they would accurately know your problem. Zoom may also ask this. You may obtain your macOS crash logs in Console. Simply, open the Console app on your Mac (Applications > Utilities folder).
You can also access the crash logs in the Library folder. Here is how:
In the Finder, press and hold the Option and then (while pressing the Option key) click Go and Library.
Click Logs.
Click zoom.us
If you need to send the folder, you can just zip it by right-clicking (control-click) and selecting Compress "zoom.us". Then you can send the whole folder to the Zoom developers for further inventions.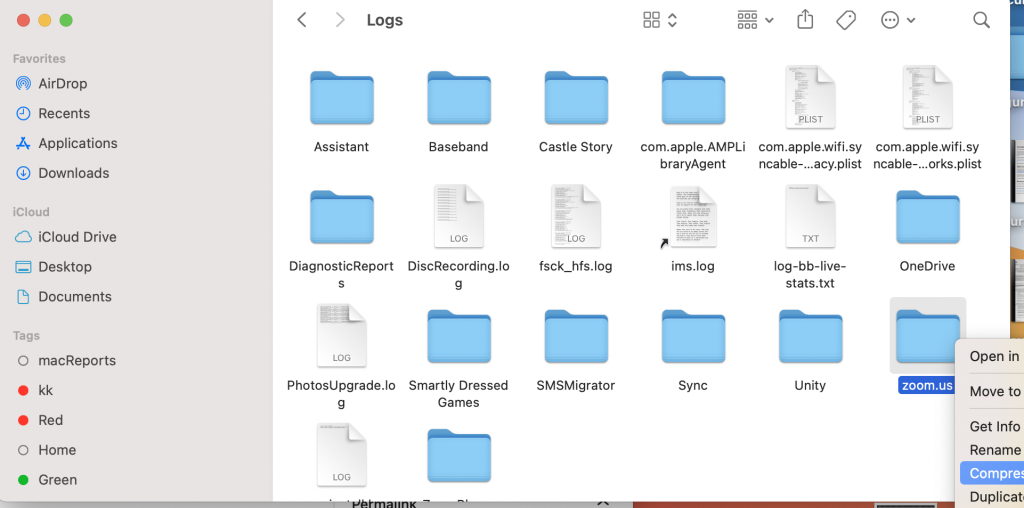 You can also contact Apple Support.