Could Not Activate iPad Because Activation Server is Unavailable, Fix
Sometimes you may not be able to activate your iPad during the setup process, either when you first purchased it or after it has been erased. The error message says:
Could Not Activate iPad. Your iPad could not be activated because the activation server is temporarily unavailable. Try connecting your iPad to iTunes to activate it, or try again in a couple of minutes. If this problem persists, contact Apple Support at apple.com/support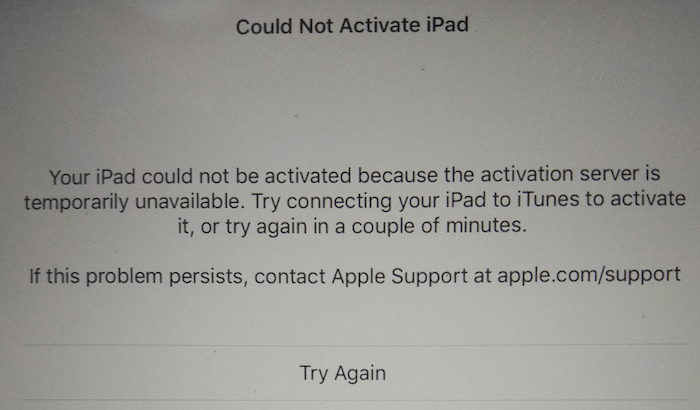 For the most part, this activation process is simple and quick. However, sometimes issues may occur. In this article, I explain how you can fix this problem. It appears that various iPad models (including mini, Air and Pro) may experience this problem.
Check Apple servers
As the error message says, Apple Activation servers may be down, and thus your iPad could not reach them. You can see if the servers are running or not by going to the Apple System Status page (Apple System website). Look for the iOS Device Activation option, as you can see in the screenshot below. If this has a green dot, that means that Apple Servers are up and running. If this is the case, check the next step. However, in rare instances, there may be issues with the activation servers. If there are issues, you will see notifications explaining the issue on the System Status page. You may also see when Apple is expected to fix it. If this is the case, just wait, check this page again and try to activate your iPad when servers are running.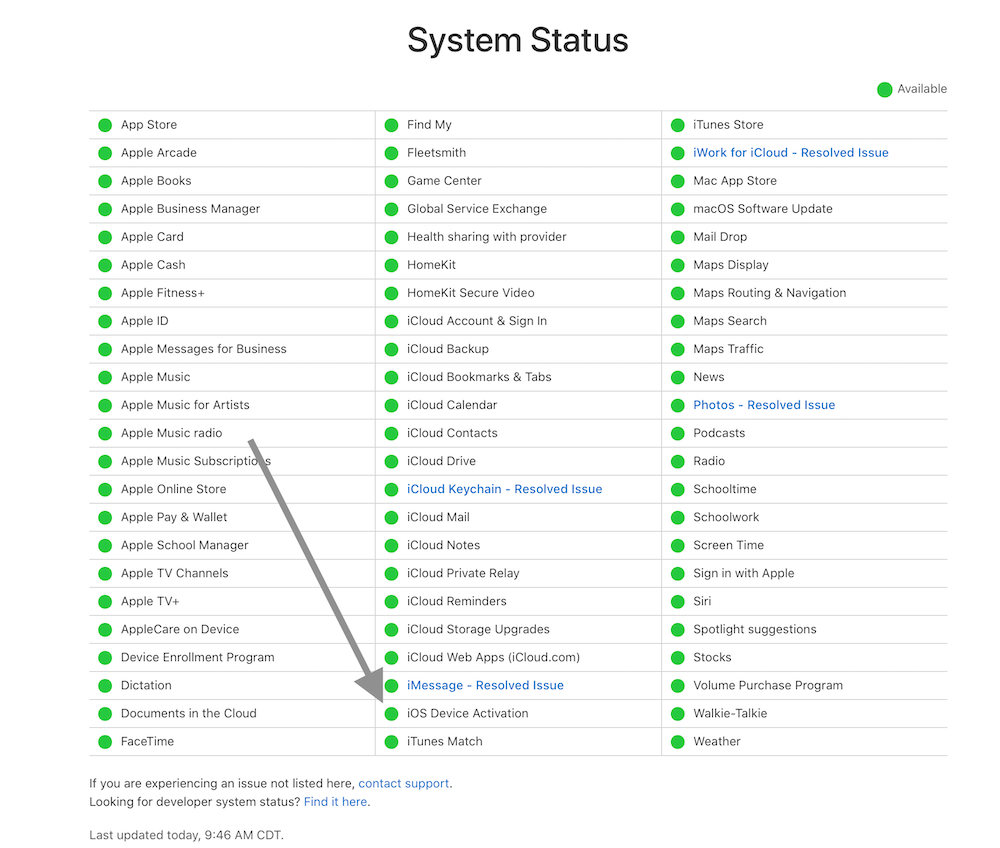 Check your connection
So you have checked that Apple Servers are running, but you still cannot activate your iPad. It is possible that there may be something blocking your iPad from connecting to the Apple Servers. Here are a few things you can do:
If you are connected to the Internet over cellular, connect using a Wi-Fi connection. If this does not work, try a different Wi-Fi connection, if possible.
If you have firewall, antivirus or similar software, disable it and then try again.
Restart your Wi-Fi router. Disconnect it from the power source, wait 30 seconds and reconnect. After reconnecting, wait a couple of minutes to ensure that your router is fully running and all of its lights are on, and then try your iPad again.
Force restart your iPad
Force restart your iPad and then try again. Here is how you can do this:
If your iPad has a Home button: Press and hold the Power button (located on the top) and the Home button simultaneously until you see the Apple logo, then release the buttons. Ignore the power off slider.
If your iPad has Face ID or Touch ID in the top button: Press and release the Volume Up button and then press and release the Volume Down button and then press and hold the Top button until the Apple logo appears.
Connect your iPad to your computer
If you are still having issues, connect it to your computer (PC or Mac) and follow these steps:
If you have a Mac, ensure that it has the latest version of macOS. You can check if there is an update by going to System Preferences > Software Update.
If you have a PC, ensure that your computer has the newest version of iTunes. Check this documentation to update iTunes.
Ensure that your PC or Mac is connected to the Internet.
With the cable that came with your iPad, connect your iPad to your computer.
View your iPad in Finder in the Sidebar if you have a Mac or in iTunes in the top left-hand corner if you have a PC.
Your computer will detect your iPad. If you see a message saying Set up as New or Restore from Backup, this means that your iPad is activated, and you can continue the setup process and start using your iPad.
If you see a message saying activation information was invalid or activation information could not be obtained from the device, this means that your iPad could not be activated. What you can do in this case is use Recovery Mode.
After trying everything above, if you are still having issues, it is time to contact Apple Support. There may be a hardware problem with your iPad. You may need to set up a Genius Bar appointment. You can live-chat with Apple, and they will guide you.
Related articles