How to Free Up Storage Space on your Mac
At some point, many people will experience a shortage of available space on their computer's storage drive. Even if your Mac isn't that old, you may be using quite a bit of your disk space for things like videos, movies or games. Macs with an SSD drive, especially if more than a few years old, may not have quite the storage capacity you need. If your Mac is running low on disk space, these tips should help you clear some room.
See also: How to Check if Your Mac Can Run macOS Big Sur
We previously wrote a similar article. But this article focuses on newer features of the macOS system.
See your Available Storage
Go to Apple menu () and select About This Mac. Click Storage. You'll see how much available space you have, and a visual representation of how much space different file categories are occupying. If you hover your pointer over one of these colored bars, you can see the number of GB used by that category.
See also: Mac Running Slow, Noisy Fan: accountsd High CPU Usage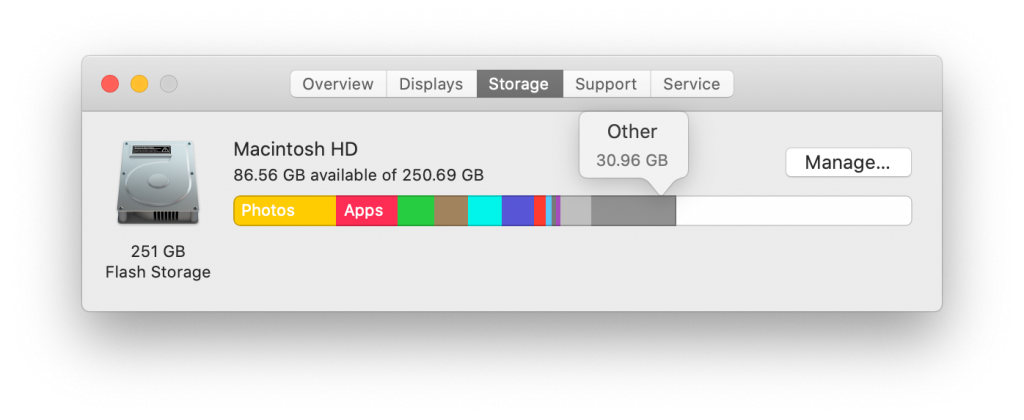 See also: "System" Storage And What Can You Do To Clear
From here, you can click the Manage button to open Storage Management.
Managing your Storage
From the Storage Management window you will see the storage optimization suggestions for your computer.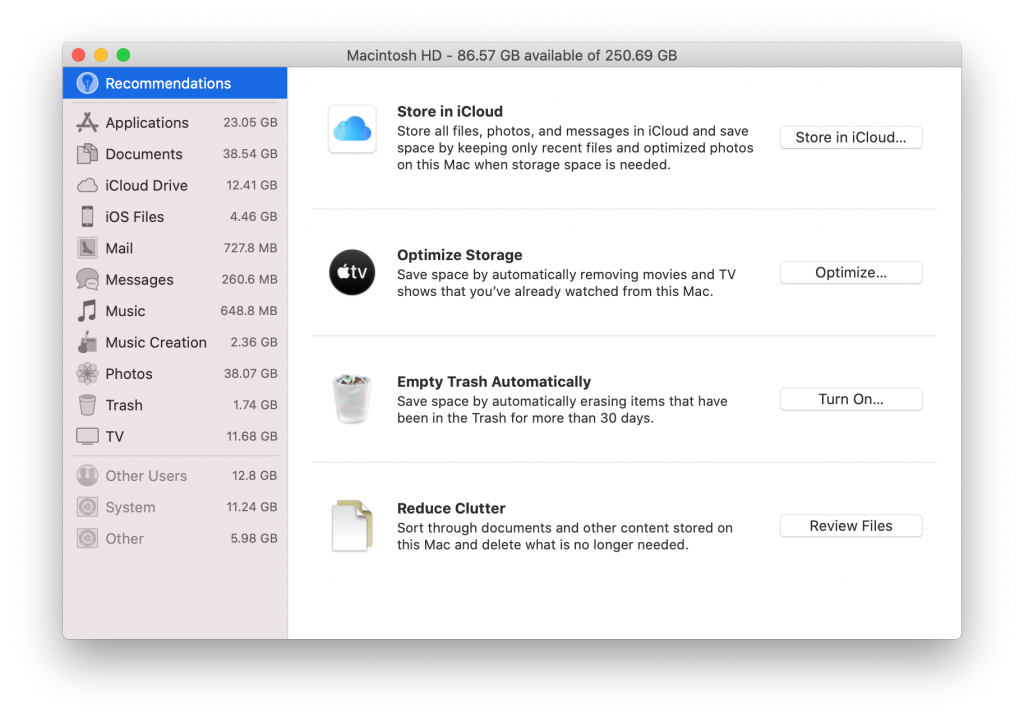 On the left, you will see the space used by certain file categories. In the main part of the window are suggestions for optimizing your available disk space.
See also: Set Up a New iPhone: How to Transfer Data from your Old iPhone
Store in iCloud
Cloud storage is often a good option for freeing up space on your Mac's disk. When you click on Store in iCloud, you can choose to store the following in iCloud:
See also: How To Upgrade & Downgrade or Cancel Your iCloud Storage Plan
Desktop and Documents: All your files from these folders will be stored on your iCloud Drive.
Photos: The full-resolution version of your photos will be stored in iCloud Photo Library.
Messages: All your messages will be stored in iCloud.
See also: iMessage Read Receipts, How To Enable Or Disable On iPhone, iPad, and Mac
Storing your files in iCloud means that, in addition to saving space on your Mac's storage disk, your files are also available on all your devices. In order to store your files in iCloud, you will need to have enough storage space available. Currently, in the U.S., iCloud storage prices are:
See also: iCloud Backup Failed, Fix
| Storage | Cost |
| --- | --- |
| 5 GB | Free |
| 50 GB | $0.99 |
| 200 GB | $2.99 |
| 2 TB | $9.99 |
See also: How To Sign In To iCloud.com
Optimize Storage
If you click Optimize next to Optimize Storage, you can choose to automatically remove movies and shows that you have already watched. You'll be able to download these again anytime.
Empty Trash
You can automatically delete items that have been in the Trash for more than 30 days.
Reduce Clutter
This will open up a view of your files similar to Finder. Here you can see:
A list of Large Files that you may want to target for deleting or moving to other storage.
Your Downloads folder – often filled with items you only ever needed once. This can be an easy place to find files you want to delete. You can sort the list be Size to choose the largest, or by Last Accessed to choose the files you haven't used in a long time.
A list of Unsupported Apps that you may have installed on your Mac. You can delete these; they won't run on your current macOS anyway.
To delete files here, just click on the file to select it, Then click Delete in the lower-right corner or the window. You can also click Show in Finder to see more information about the file.
Other Ways to Free Up Space
Delete Media Files
Media files like music and movies take up a lot of space. See more on how to delete music, movies and shows from your Mac.
Trash Unneeded Files
Move files you don't need to the Trash, then empty it to free up space.
See also: How To Delete Multiple Images & Videos (And Other Files) In Messages At Once, Quickly
Move to External Storage
If you have an external drive, you can put some of the files you don't use much on your external drive. This can be a good option if you aren't sure about deleting some of your files, or you don't want to take the time to sort through them. You can put them on your external storage to free up the space on your Mac.
See also: How to Back Up your Mac with Time Machine
Compress Files
Compressed files will take up less storage space. See our article, How To Zip and Unzip Files In macOS, for more details.
Delete Old Mail
See also: Mail Cannot Save Information About Your Mailboxes Because There Isn't Enough Space In Your Home Folder
Open your Mail app. Go to Mailbox > Erase Junk Mail and also, Mailbox > Erase Deleted Items.
See also: Email Attachments Won't Open in Safari on Mac
Recent Articles: