Is Spotify Not Working on iPhone? How to Fix
A lot of iPhone owners use Spotify to play music and podcasts. It has millions of songs that you can start listening to as soon as you sign up. Some technical problems may cause the Spotify app to stop working on your iPhone. You may run into this when trying to play a song or podcast in the Spotify app. In this article, I explain several effective ways to troubleshoot the issue when Spotify is not working on your iPhone.
1. Is Spotify not loading?
The two biggest causes of the problem are the connectivity and the status of Spotify servers. If your connection is poor, your iPhone won't be able to connect. Furthermore, it is possible that Spotify may have issues. This is rare, but it can occur. If the root of the problem is Spotify, there is nothing for you to do except wait for it to be fixed. Spotify's official Twitter account posts updates to its system status for ongoing issues. If there are issues, they will be posted there.
2. Can't download Spotify?
Spotify is not compatible with all iOS versions and iPhone models. If your device is not running iOS 14 or later, you won't be able to use Spotify. Some older iPhone models cannot get iOS 14 or later. For example, if you have an iPhone 6, you cannot update to iOS 14 and thus cannot download and use Spotify. Furthermore, ensure that your iPhone is using the latest version of iOS.
3. Does Spotify show a black screen?
Sometimes Spotify may only show a black screen with a Spotify icon. If that happens, try the following:
Ensure that the app is up to date.
Restart iPhone.
If restarting does not work, force-restart your iPhone by following the steps below:

Press and release the volume up button.
Press and release the volume down button.
Press and hold the side button until you see the Apple logo. If you see the power-off slider, ignore it.
4. Spotify app not opening?
Does nothing happen when you try to open the app? Does it freeze, or does the app crash as soon as you open it? Try these:
Close the app and then open it again. If you have an iPhone X later, swipe up from the Home screen and swipe up on the Spotify app preview. If this is an iPhone with a Home button, double-press the Home button and swipe up on the Spotify app. Then try to open the app.
Ensure that the app is up to date. Go to the App Store to check for updates.
Restart your iPhone.
Delete and reinstall the Spotify app.
5. If you do not hear anything
If you see that Spotify is playing (e.g., the progress bar is moving), but no sound is playing. Here is what you can do:
Make sure that your volume is not down or muted.
Open another music app, like YouTube, to see if you can hear that. If you cannot hear that, too, the problem is with your iPhone:

Check your iPhone's speaker openings to ensure that it is not dirty or blocked. You can use a soft brush to gently clean.
Your sound may be playing somewhere else. For example, you may be connected to Bluetooth headphones or a speaker.
6. Playback issues
If you are unable to play albums, playlists or podcasts, these tips may help:
Ensure that your iPhone is connected to the Internet.
If your issue occurs over cellular, ensure that Spotify is allowed to use cellular data. Go to Settings > Cellular and ensure that Spotify is turned on.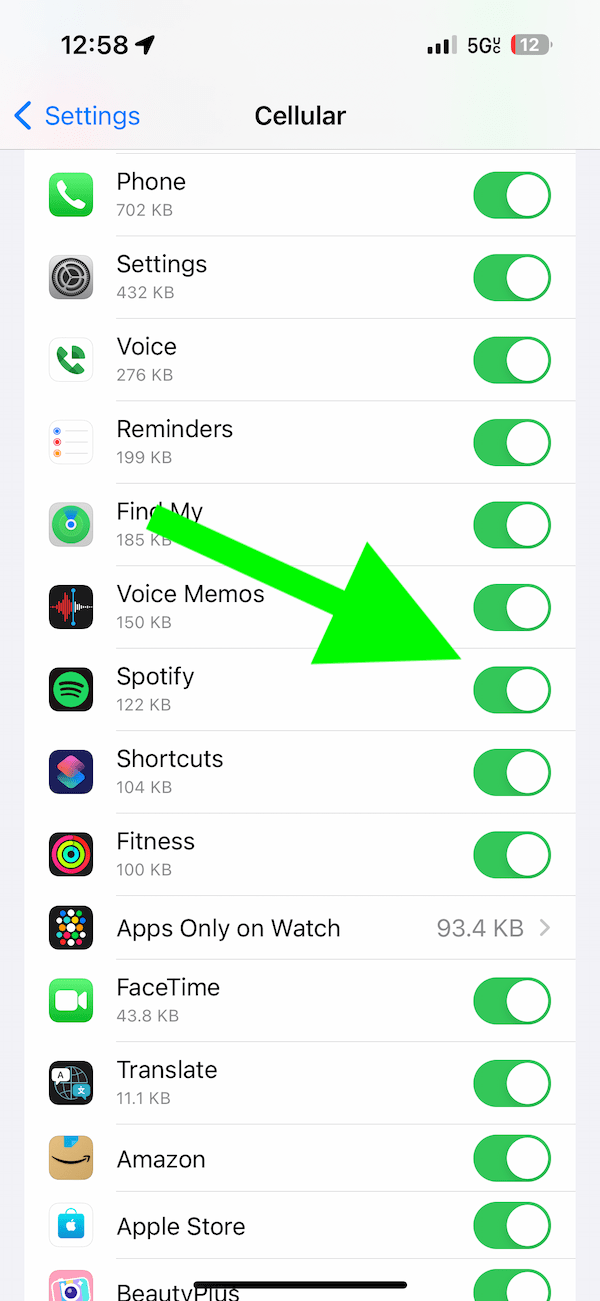 7. Can't listen offline
Premium users can download songs and then listen later when they are offline. If this feature is not working, meaning you are unable to download, try these.
Ensure that your Internet is active to download.
Make sure that your iPhone has enough storage for the downloaded file.
There is a 5 device limit; ensure that you are not over the limit.
Clear the Spotify cache. Open the Spotify app, tap the Home tab and then the Settings(gear) icon. Tap Storage and then tap the Clear cache button.
8. Are songs grayed out?
Is your playlist or songs grayed out, making them unplayable? Here is what you can do:
Ensure that your device is not in offline mode. Open Spotify, tap Home and then tap the Settings (gear) icon. Then select Playback. If Offline is enabled, turn it off.
If you experience this issue with some of the titles, those may not be available to you due to copyright issues. Some content may have regional restrictions.
Again you may be having a poor network connection. Ensure that your Internet connection is stable and working.
If you are using VPN, that may cause issues. Turn off VPN and try again.
9. Can't play your own songs?
Spotify can play your music files that you have on your iPhone. If this does not work, ensure that Spotify has access to your files. Check this by following these steps:
In the Spotify app, tap Home.
Tap Settings, then Local Files.
Turn on Show audio files from this device.
Related articles