How to Keep AirPods from Falling Out of Your Ears
Many people love their Apple AirPods wireless headphones, and they are very popular with owners of other Apple devices. Unfortunately, for some people, their AirPods don't fit securely in their ears, and can fall out easily. If you are one of these unfortunate AirPods owners, you may be annoyed at having to take extra care to keep them in your ears while you are using them. But beyond the irritation and distraction of your AirPods falling out while you are using them, you might be worried about losing them – especially if you use your AirPods in a public place like while you are out for a run, or at the gym.
See also: How to get AirPods Pro with Static, Crackling Replaced for Free
AirPods may be pretty cool, but they aren't cheap and having to replace one that's been lost or damaged will cost you. Current prices for an AirPod replacement are $89 for AirPods Pro and $69 for AirPods, plus tax and $6.95 for shipping. If you have AppleCare+ for your AirPods, the cost of repairing a damaged AirPod is much less, however AppleCare+ doesn't cover lost AirPods. In this article, we'll give you some tips about how you can keep your AirPods in your ears.
See also: AirPods Keep Disconnecting, Fix
How to Keep AirPods in your Ears
Many people like to listen to music while exercising, and wireless headphones are definitely the way to go when you need the freedom to move and can't risk getting anything tangled in your headphones wires. However, the problem of keeping your AirPods in your ears can be the worst when you are moving and/or sweating.
See also: Fitness+ Says "Apple Watch Unavailable"; Fix
Adjusting the Fit
Everyone's ears have a different shape. Both the external appearance and also the size and shape of the ear canal can vary quite a bit from person to person. You may see that most people will wear their AirPods with the stems pointing straight down. This position may not be the best for everyone. You may need to experiment a little to find the most comfortable and the most secure position for your AirPods.
Wipe the AirPods with a damp cloth or paper towel to remove any oil or residue. Residue on the AirPods can make them more slippery in your ears.
With the stem of the AirPods pointing down, push the AirPods gently into your ears.
Now, rotate the AirPods slightly. Twist them so that the stem points away from your head – somewhat more horizontal. Choose a position that feels comfortable and secure.
Try varying the orientation of the AirPods by twisting them so the stem points slightly forward. Find a comfortable position where the AirPods feel the most secure in your ears.
See also: AirPods Not Connecting To Mac, How To Fix
Using Ear Tips and Covers
AirPods Pro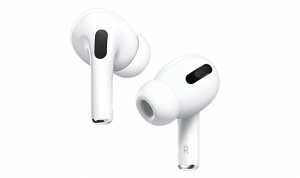 AirPods Pro comes with three sizes of silicone tips. Having a good fit for the AirPods Pro is important not only for keeping them in your ears, but it is also important for the Noise Cancellation feature of the AirPods. The noise cancellation works to reduce exterior and interior noise and may not work properly when the AirPods fit poorly. In addition, the transmission of bass sounds requires the AirPods to fit snugly in the ears.
See also: AirPods Sound Volume Issues, Fix
For AirPods Pro, the correct size tip should fit securely, but not uncomfortably in your ears. If you are not sure which size is best, you can use the Ear Tip Fit Test.
Ear Tip Fit Test
Put your AirPods in your ears and go to Settings > Bluetooth on your iPhone (or iPad.)
Find your AirPods in the device list and tap on the info (i) button next to your AirPods.
Select Ear Tip Fit Test, then tap continue.
Tap the Play button.
If the test suggests a different sized tip, you can try the suggested size, or adjust the AirPods in your ears and try the test again.
Third-Party Covers and Tips
There are some third-party covers out there specifically for AirPods Pro. See the AirPods section below for some of the pros and cons of the different types of covers and hooks for AirPods. There are also some third-party tips available that you might try for your AirPods Pro. Third-party replacement tips that fit in a similar manner to the original Apple tips shouldn't cause a problem with fitting your AirPods in their charging case.
AirPods
There are many third-party AirPods covers available. There are 3 types you can look for: covers, ear hooks and cover/ ear hook combinations.
Covers
The main problem with most AirPods covers is that the covers must be removed before the AirPods can be inserted into their charging case. Another problem with some covers is that they can be thin and tear easily or can be difficult to put on – which will be a pain when you have to take them off every time you need to charge your AirPods.
See also: AirPods Wireless Charging Not Working, Fix
Hooks
There are hooks available for your AirPods. The hooks are designed to hook around the top of your ears in order to hold the AirPods in place. Because these attach simply to the stem of your AirPods and don't have to be carefully fit around the "ear canal part" of the AirPods, they can be much easier to take on and off for charging.
See also: Red Exclamation Point On AirPods, Fix
Other Tricks
Waterproof Tape
Some users have had success with using a waterproof tape. This method has been described in several places now on the internet. We'll describe it briefly here:
For the tape, try Nexcare 3M. This is the kind of tape recommended – not duct tape or scotch tape, etc. This tape is sort of cushiony, has a decent, waterproof adhesive and doesn't leave much of a residue when removed.
To craft the pieces of tape you will need, try using a hole punch to punch out circular pieces of tape. You will use two for each AirPod. Place one on top and one on the bottom of the "ear canal part" of the AirPods. Certainly you can experiment with different sizes and shapes for your tape pieces, and with the tape placement on the AirPods.
Your AirPods should still fit in the charging case when you use this method.
Recent Articles: