Apple Maps is so Slow on Mac, Fix
Some Mac users have said that Apple Maps is running very slow. This article may help you if Maps has turned all sluggish on you. In this article, I explain how you can fix slow Maps issues. Maps may sometimes seem to act up for no reason. For example, Maps may take longer than usual to load or you may experience lag issues while using it. Some of the common problems include:
Unable to switch satellite view.
A black, sometimes blank, screen appears when trying to display maps.
Zooming in or out is slow and laggy.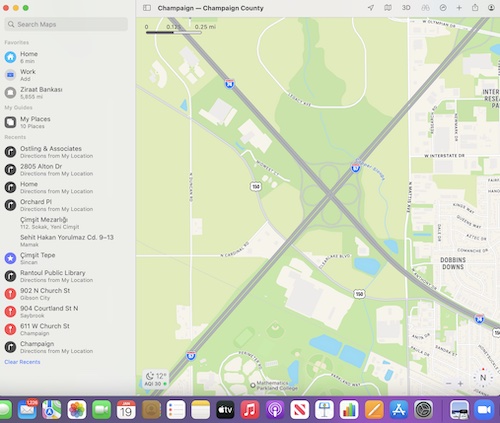 Check the speed of your internet
The first step is to check your internet connection. Maps uses the Internet to function. You rule out any Internet connection issues easily. Open Safari on your Mac and type macreports.com into the address and hit enter. If the macReports website does not load or loads slowly, you have a connection problem.
If your Internet is slow and sluggish, Maps may not work properly. If you are having connection issues, restart your router to see if it changes the performance. You can also try:
Use a different connection if possible.
If you are using a VPN, turn off and try again.
If you are using an anti-virus app, turn off and try again.
Restart your Mac and try again.
If the issues continues, you may want to review these articles:
Check Apple System status
Apple Maps may not be working because it is possible that Apple servers are experiencing technical issues. This means that this problem is a general issue affecting a lot of users and you can't do much to fix it but instead wait for Apple to address the problem. You can check if Maps services are having issues by going to the Apple system status page.
Restart your Mac
Restarting is simple and can fix your Maps problems. You can restart your Mac by going to Apple menu > Restart. After restarting, open Maps to see if it is slow or not. If Apple Maps is unresponsive, you can quit or force-quit it and then restart your Mac.
Update your Mac
Apple periodically updates their macOS software to patch up security holes and fix problems that make programs like Maps go slow. When you update your Mac, the update will also include the Maps app. Your Mac and its built-in apps will perform best when your computer is updated to the latest version.
Safe Mode
Turn on Safe Mode on your Mac and try to use Maps in Safe Mode. Then exit Safe Mode and test Maps again.
Note: Go to Apple menu > About This Mac to find out whether you're using a Mac with Apple silicon. Then follow these steps:
Apple silicon Mac:
Turn off your Mac.
Press and hold the power button until you see the startup options window.
Select your startup disk.
Press and hold the Shift key and click "Continue in Safe Mode."
Intel Mac:
Turn off your Mac.
Turn on your Mac and quickly press and hold the Shift key.
Release the Shift key when you see the login screen.
Log in to your Mac.
See also: