QuickTime Says Recording Stopped, How to Fix
Some users have complained that the QuickTime recording stops randomly and unexpectedly for no apparent reason. You can use QuickTime to record movies and videos. You can also make a video recording of your Mac screen. I frequently use QuickTime. It is a very useful Mac app.
This error will prevent you from saving your QuickTime video files. As described by our users, this problem occurs after starting recording. Basically, users click the record button and a few seconds or minutes later, it just stops recording giving an error saying "Recording Stopped" (see the screenshot below). It appears that this error usually occurs somewhere between 3 to 15 minutes into an active recording session, for example, a lot of users said recording stops at 10:55.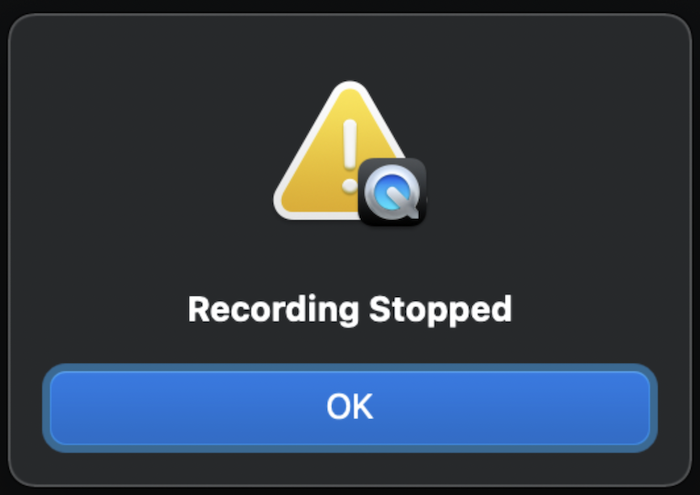 How to fix the QuickTime Recording Stopped error
I recommend you try these:
1. Update: Ensure that your Mac has the latest version of the macOS software. You can install the new updates (if there are updates) by going to System Preferences > Software Update.
2. Storage: I would recommend that you check to see if you have enough free storage space on your Mac. It is important to ensure that you have enough storage space on your Mac before you start your recording. If your recording is big, it can take up a lot of space.
On your Mac, go to Apple menu, choose About This Mac and click Storage. This screen will show you the amount of storage space available.
If your Mac storage is running low, I would recommend these articles:
3. Check your settings: Some users have said that adjusting the following settings fixed this problem for them. You may also try them:
Disable screen saver: Apple menu > System Preferences > Desktop & Screen Saver > Screen Saver. Deselect the "Show screen saver after" box.
If this is a MacBook, go to Apple menu > System Preferences > Battery , then click Battery again. And ensure that the "optimize video streaming while on battery" box is selected.
Then, again, go to the Battery setting (if this is a Mac notebook) by going to System Preferences > Battery > Battery. Then find the "Turn display off after" option (this is the top slider). Move the slider to the right and increase the amount of time. For example, make it one hour.
And when you are recording a video, especially if you are using an external camera, you can change the quality option. There are two options: High and Maximum. Ensure that High is selected. You can change this by clicking the Options pop-up menu in QuickTime.
4. Disable power nap: Some users have said that this QuickTime Stopped Recording issue was fixed when they turned off the power nap option. Please note that not all Macs have this option. Mac computers with flash memory support this feature. Here is how:
MacBook: Go to Apple menu > System Preferences > Battery, then click Battery or Power Adapter deselect "Enable Power Nap while on battery power." or "Enable Power Nap while plugged into a power adapter."
Mac desktop: Click Apple menu > System Preferences > Energy Saver and deselect "Enable Power Nap."
5. Safe Mode: If the steps above do not fix your QuickTime issue, restart your Mac in Safe Mode. And test QuickTime in Safe Mode. Exit Safe Mode and test again.
See also: