Green Line on iPhone Screen? How to Fix
Does your iPhone screen show a green line? It appears that this issue may occur on all iPhone models. Your iPhone will show these symptoms:
The iPhone seems to function as expected; however, a green line runs from the bottom to the top.
The green line may be flickering.
The green line may be positioned vertically or horizontally.
The green line sometimes may be a thin line, but it also may be thicker, like a column consisting of different color bars but mainly various green tones.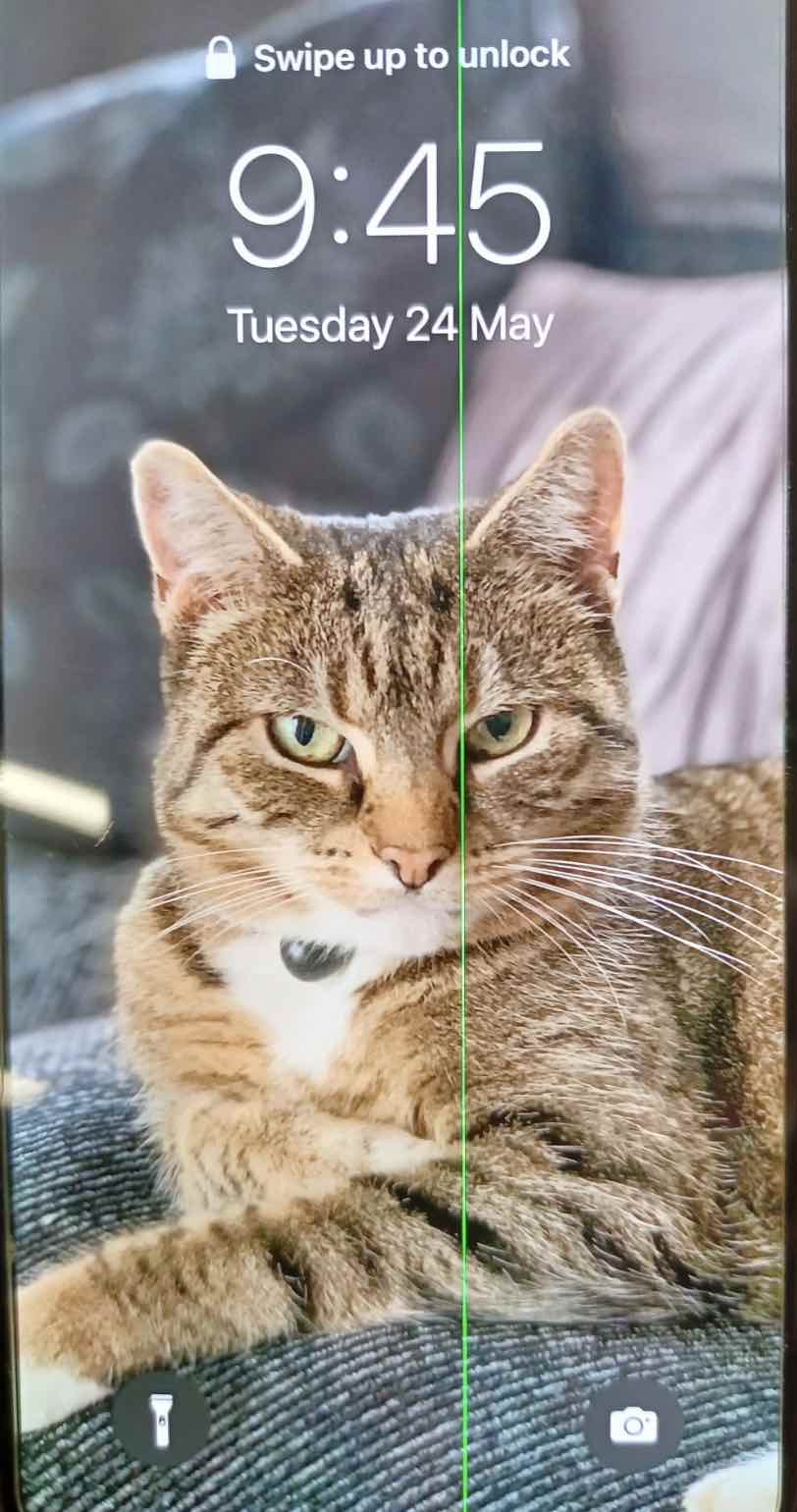 What may cause the green line on iPhone
This may appear after your iPhone experiences an event. For example, if you drop your iPhone or get it wet, a green line may appear, indicating that the screen has hardware issues. The most likely cause of this problem is a hardware failure. This can include:
Display connector issues. They may be loose, broken, etc.
Screen damage as a result of a drop or water exposure.
Sometimes, you may experience this due to a manufacturing defect. In other words, your device was somehow produced or assembled poorly or bad parts were used in your device. Defects in materials or workmanship can cause this. If the issue started occurring for no apparent reason, this could be the cause. Do not panic, though. Apple will fix the issue or replace your iPhone if your iPhone is still under warranty. Apple's standard warranty lasts one year.
However, there are also software-related reasons. A software glitch may also be to blame for a green line appearing on an iPhone. Corrupted updates may cause issues like this one. If you only see the green line in certain apps, it is obvious that the issue has to do with the app. This app may be incompatible or needs an update.
How to fix the green line problem
As I stated above, the most likely cause is a hardware problem. If it is a hardware problem, you are limited in what you can do other than taking it for repair. However, it is always best to do the basic troubleshooting steps to address any possible software-related causes to see if it clears the problem. Try these first:
Ensure that your iPhone has the latest updates (Settings > General > Software Update).
Restart your iPhone.
Force-restart your iPhone:

Press and release the Volume Up button.
Press and release the Volume Down button.
Press and hold the Side button until the Apple logo appears. If you see the power-off slider, ignore it. Keep pushing the Side button until you see the Apple logo.

If you experience the green line problem while using certain apps. Ensure that the app is up to date. If the problem continues, remove the app or contact its developer.
Contact Apple support
If your issue has not been fixed after trying the steps above, you should contact Apple. If your iPhone is still under warranty, Apple may replace the screen for free if it has not been caused by accidental damage. For example, if this issue occurred after a drop, Apple's standard warranty won't cover it. However, if the green line issue occurs due to a manufacturing issue, Apple will cover the costs. Apple will determine the cause. If your warranty has expired, Apple will charge a fee to fix it.
If you have AppleCare+, your cost will be much less. For example, an iPhone 14 Pro Max screen will cost $379 without an AppleCare+. But with AppleCare+, the cost will be $29. Apple explains the process clearly.
Contact Apple via chat, or you can get them to call you. You can also make a Genius Bar appointment.
Related articles