Apple Watch not Ringing, Fix
Some users have reported problems with their Apple Watch not ringing when they are getting a call. It seems that for many, after updating their device to watchOS 7.xx, incoming calls only show up on their iPhone. For some users, their watch will ring sometimes, but not always. Only calls appear to be affected, and notifications from other apps, like messaging apps, are working. There's no problem with the watch making calls.
See also: iOS 14 Text Notification Not Working, Fix
In this article, we will help you troubleshoot the issue of not receiving call notifications on your Apple Watch. You'll see some settings you should check, and then some troubleshooting suggestions to try.
See also: Apple Watch Unable to Unlock Mac after Upgrade
Apple CarPlay

Some users experiencing this problem have suggested a connection with using Apple CarPlay. The claim is that after their iPhone connects to CarPlay, their Apple Watch no longer receives call alerts. For these users:

* Restarting their iPhone (temporarily) fixes the problem.
* The problem returns after their iPhone connects to CarPlay.

If you test this out, and it seems to describe your problem too, you can still continue with the troubleshooting steps outlined here. If you find that nothing works other than the temporary solution of restarting your iPhone, you can report the issue to Apple via their Product Feedback page.
Things to Check
Are you using your iPhone when you are not receiving alerts on your Apple Watch? Notification alerts will only show up when you are not actively using your iPhone.
Check that your watch is unlocked. You can see a lock icon on your watch screen or press the Digital Crown to open the passcode screen.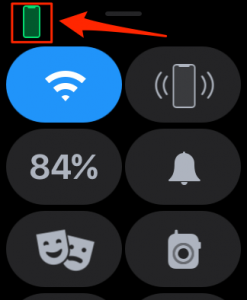 Is your Apple Watch on Silent or Do Not Disturb? Swipe up from the watch face screen to bring up the Control Center and check the ring/silent and Do Not Disturb icons.
See also: iPhone Not Ringing, Fix
Also check the volume settings. Open Settings on your Apple Watch. Scroll down and select Sounds & Haptics. You can change the volume up or down by tapping the speaker icons.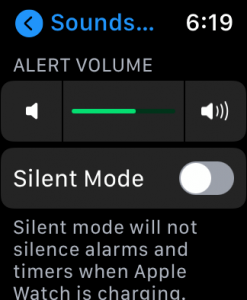 Check your notification settings for calls. On your iPhone, go to your Watch app. Scroll down and select Phone. Verify that Mirror my iPhone is checked and that Sound and Haptic are enabled under Ringtone.

See also: iPhone Silencing your Calls? How to Fix iPhone not Ringing Problem
Things to Try
If all of your settings seem to be right, here are some things you can try. You should try these things one at a time and see if the issue is resolved before trying all of the steps. They are more or less listed in order of difficulty.
See also: How to Fix Apple Watch Battery Problems after watchOS 7 Update
Check for Updates
Install the latest updates. Many times they contain bug fixes.
iPhone: Go to Settings > General > Software Update.
Apple Watch: On your watch Settings > General > Software Update.
Restart Apple Watch
Press and hold the side button on your watch until the Apple logo appears. The side button is the flat one, the one that sticks out is called the Digital Crown.
Drag the Power Off slider to turn off the watch.
Press and hold the side button until the Apple logo appears to turn your watch back on.
Restart iPhone
iPhone with Face ID
Press and hold both the side button and either volume button until the slider appears on the screen.
Drag the slider.
iPhone with Home Button
Press and hold the side button or the Sleep/Wake button on the top of your phone (depending on your model).
Drag the slider.
Re-pair iPhone and Apple Watch
Unpair Apple Watch
Open the Watch app on your iPhone.
Select My Watch near the bottom of your screen, then tap All Watches at the top of your screen.
Tap the info button next to your watch.
Tap unpair Apple Watch.
Re-Pair Apple Watch
Turn on your Apple Watch by pressing and holding the side button.
Bring your iPhone and watch near each other and an Apple Watch pairing screen will appear on your iPhone. Tap Continue.
Follow the onscreen instructions to pair and set up your Apple Watch.
Reset Apple Watch
Most of your data on your Apple Watch can be restored when you re-pair. Your watch's backup will not include your Apple Pay cards or your Bluetooth pairing info, so you will have to re-enter those. For some problems, after erasing, setting up as new can help, however, you lose your data and settings that way.
On your iPhone, open the Watch app. Make sure your watch is near your phone.
Select General > Reset. Choose Erase Apple Watch Content and Settings. Tap to confirm, when prompted. If you are using cell service on your watch, choose to keep your plan.
When you pair your watch again with your iPhone, select to Restore from Backup unless you are choosing to set up as new.
Contact Apple Support
If the above suggestions have failed to solve the problem for you, you may want to contact Apple Support for more help.
Recent Articles: