How to use Shazam Music Recognition in iOS 14.2
Apple purchased Shazam, the music recognition app, in 2018 and iPhone users have been able to use Shazam on their devices for some time now. But now, with iOS 14.2, Apple has integrated it into the system software and made Music Recognition available in Control Center.
See also: Set Up a New iPhone: How to Transfer Data from your Old iPhone
In order to use Shazam to identify music, you won't need to install the Shazam app. You will, however, need to update to iOS/iPadOS 14.2.
See also:
Shazam in the Control Center
Music Recognition will not be automatically included in your Control Center after you update to iOS 14.2. To get the Shazam button in Control Center, where you can easily access it, you will have to add it from Settings.
See also: Apple One: What's Included in the Free Trial Bundle?
Go to Settings.
Select Control Center.
You will see a list of Included Controls already in your Control Center and below that, a list of More Controls that can be added. Find Music Recognition in the More Controls List.
Tap the plus sign (+) next to Music Recognition.
See also: This Password has Appeared in a Data Leak ...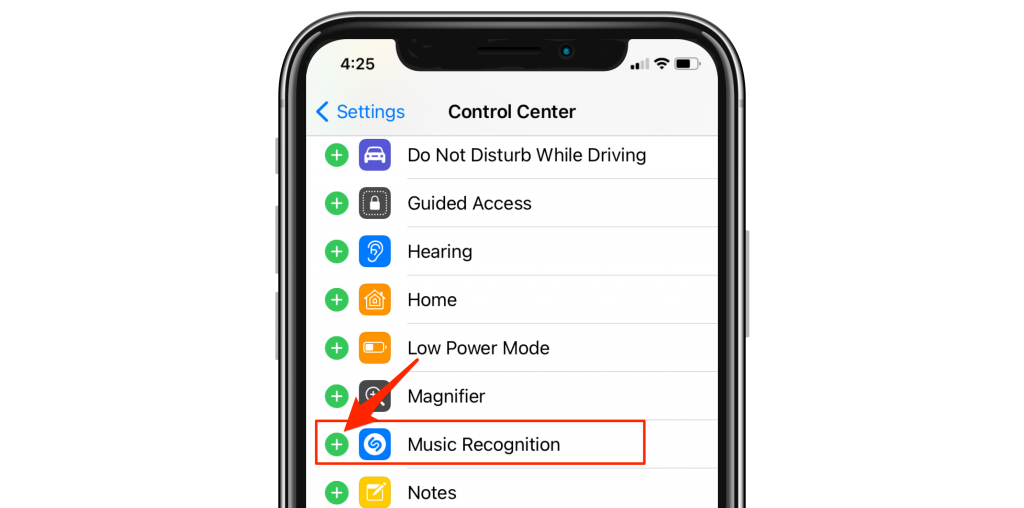 See also: Customize your iPhone Home Screen for Free
If you want to change the placement of Music Recognition, or any other button in your Control Center, you may rearrange the order of the Included Controls by pressing the 3 lines to the right of one of the listed controls and dragging it to a new position in the list.
See also: Wi-Fi Weak Security Message on iPhone or iPad: WPA/WPA2 …
How to Use Shazam Music Recognition
When you are ready to identify music that is either already playing, or that you will turn on shortly:
See also: Can't Turn On iCloud Music Library? Fix
Open Control Center by swiping down from the upper-right corner of your screen (or swiping up from the bottom – iPhone 8, SE).

Tap the Shazam (Music Recognition) button. It will light up to indicate it is listening for music.

See also: Why is there an Orange or Green Dot on my iPhone?
If your song is identified, you'll see a banner appear with the song and artist info. You can tap on it to see more information on Shazam's website.

On the Shazam website, you can play the song and read the song lyrics. You can also open the song in Apple Music from the website.
See also: iPhone Silencing your Calls? How to Fix iPhone not Ringing …
Adding the Song to your Apple Music
There are two ways to open the song in Apple music.
After the banner with the song information appears, tap on it. You'll be taken to Shazam's website where you will see a button labeled Listen on Apple Music. Click on it.
See also: How To Remove, Update Or Change Your Apple Payment Method
You may also directly open the song in Apple Music, without going to Shazam's website. When the song identification banner appears, you can press and hold briefly on the banner to open the song in Apple Music.

After opening the song in Apple Music, you will be able to Play the song or add it to your Library. To add the song, click the plus sign to the right of the song title.
See also: What is MagSafe and How do I use it?
Recent Articles: